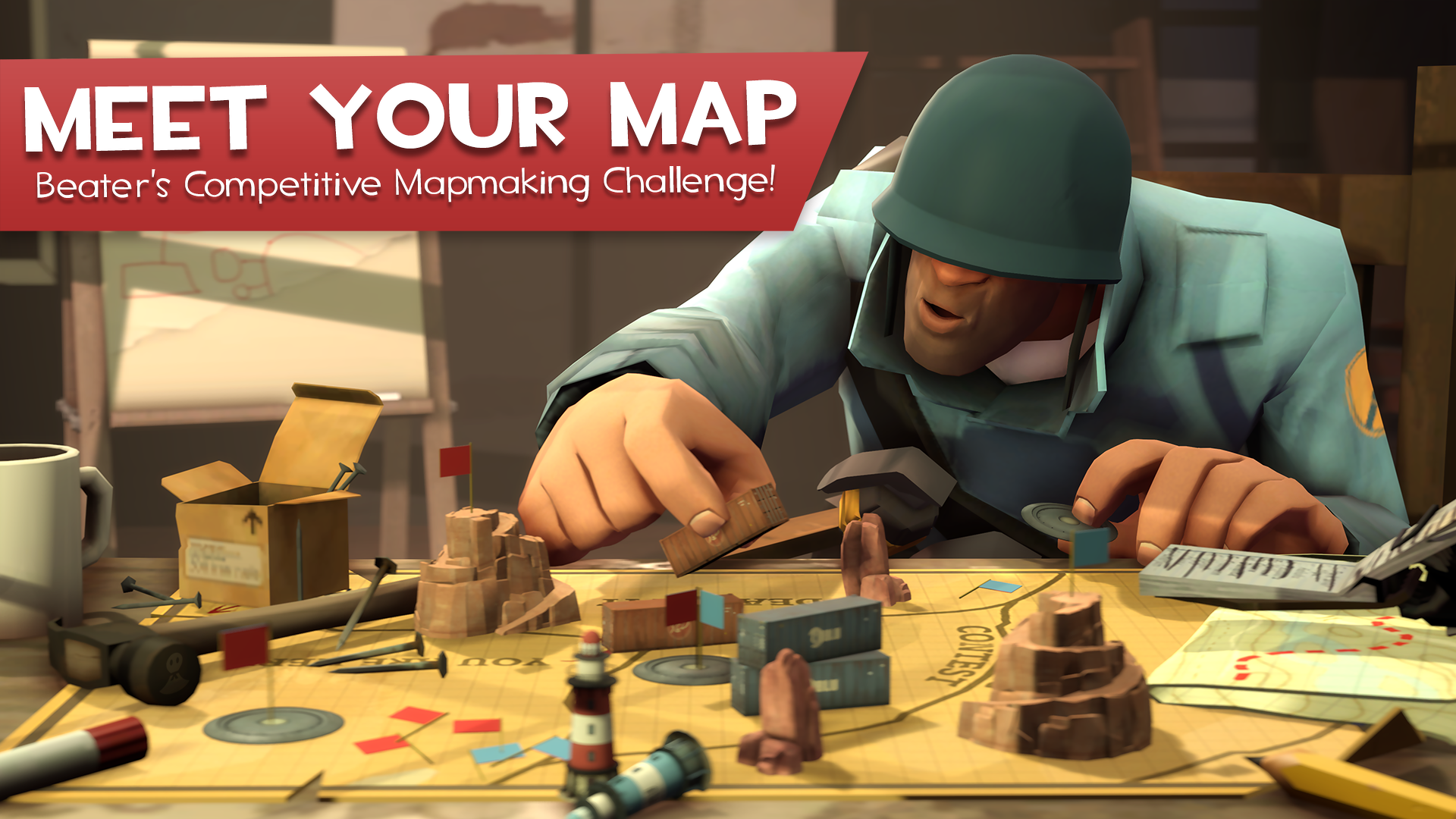 Meet Your Map: Beater's Competitive Mapmaking Challenge!
Hello TF2 mappers, I am Beater and I am proud to present my competitive 6v6 Map Making Challenge!
The purpose of this map making competition, and the following one-night cup, is to create the best possible competitive, 6v6 koth or 5cp map, with prizes in the form of cold, hard cash!
I firmly believe that new maps are an integral part of keeping the 6v6 meta fresh, so that's why I've decided to throw some cash your way to create some great new maps!
Map makers will have until March 16th, 2018 to create and submit a 6v6 competitive map. The map must be either a 5cp or a koth map, and it must never have been used in ETF2L, ESEA, OZFortress or UGC, ever. The maps can be submitted to the
official submission thread
on these forums and at the end of the deadline a panel of experts (and me) will select 3 maps which will be featured in a one day cup, where the team captains will vote for their favorite map and determine which mapper will win the 70 euro first prize. Maps can be updated after they are submitted. The newest version will be used for the cup.
Rules:
1. Each contestant can only submit one map. If several people collaborate on a map they can only be involved in that one map.
2. The map must be an original creation that has never been used in ETF2L, ESEA, OZFortress or UGC before. The map must be a koth or 5cp map. You cannot Submit a pro version of a map that is currently or was previously used in any of the listed leagues, no matter how old the map is. Want to make a pro version of cp_mainline or koth_ashville? Too bad, not allowed. Have you worked on a map for a while but it has still not been accepted into any league? These entries are allowed.
3. The map must be submitted to the official competition submission thread before March 16th, 2018, which marks the end of the ETF2L 29 Season. You are allowed to update your map after submitting it, so don't be afraid to add your submission early.
4. Three maps will be picked out after the submission deadline by a panel (or in worst case, Beater), and these three maps will be used in a 6v6 tournament. The team captains of all participating teams will vote for their favorite maps, and this will determine the final winner of the map competition. If shit hits the fan and everything goes horribly wrong, Beater will pick out all the winners.
How to submit
All submissions are to be put in the dedicated submissions thread
here
. This thread is only for submissions. You can add pictures of your map and download links to updated versions of the map, but all discussion and questions should be directed to this thread, or the map's own separate thread.
The deadline for submissions are March 16th, 2018.
Prizes
First place will receive 130€ and a SVIFT hoodie
Second and third place will receive 35£.
Prizes will be paid out using PayPal.
These figures might change with time, but they will never go below this.
big thanks to Najesu who donated 150€ towards the prize pool
Mapping advice from a 6v6 know-it-all elitist
The following is my (admittedly super subjective) opinion and advice for things to keep in mind when making a good competitive 6v6 map:
1: Avoid left/right asymmetry. Maps like croissant were universally panned by the competitive 6v6 community largely due to its left/right asymmetry. People get confused about red and blu not being the same, and many players argue that one side has an advantage due to many projectiles coming out of the right side of the screen. Save yourself the hassle and don't make a map that features prominent asymmetry like this.
2. Eliminate as much randomness and as many weird gimmicks as possible. Having trains, randomly opening pathways or anything that is outside of the players' control is not recommended. Most 6v6 players also dislike things like elevators, launchpads, death pits and other terrain that kills you. Do not include these features in your map.
3. Pushing into last and pushing out of second are the most important aspects of your 5cp maps to get right. Having a good flow and making sure that all points can be properly pushed are what makes a 5cp map fun to play. This is true at all points of the map, but nowhere more than when it comes to pushing into and out of last, since this is where a lot of maps will get bogged down due to the defense having a spawn advantage, yet being unwilling to take risks and push because they are so close to their last point.
4. Don't put the final capture point too close to the defenders' spawn, and too far away from the attackers' entrance.
5. Avoid tiny chokes as much as possible. The general rule of thumb when making a 5cp map for 6v6 is to have 3-4 entrances between each point, and this mostly holds true. In general you want to keep your doorways wide and tall to allow players to force their way through, and make sure you spread out your chokes in such a way that you can't stand in one convenient spot and watch all entrances. Also avoid cramped areas as much as possible. If any part of your map reminds you of Junction, you need to rethink your map layout! (The metalworks lobby is an example of a bad indoor area, while Badlands has a pretty good lobby)
6. Avoid excessive sight-lines. This goes beyond preventing a sniper from abusing and dominating a map. Players are more willing to move around if they can't be seen by the enemy team, so making sure that props and map architecture blocks players' vision actually help prevent stalemates since it's easier to over-extend and and get caught out by enemy players. It's also easier to sneak in to go for a play.
7. Make use of varied terrain and height differences. Scouts, soldiers and demomen thrive in different kinds of terrain, so making sure that your map has some areas that favor every class more than the others is a good idea. Having a bunch of flat terrain with props on it is boring, and using gradual inclines and changes of terrain is much more interesting to play on, even from a DM-perspective. See Badlands for a master class in varied terrain that emphasizes height differences. Spire is probably going too far, if I'm being perfectly honest, though.
8. Don't use snow. Competitive players hate snow.
9. When holding an area, a 6v6 team is looking to achieve several things:
1. Lock down chokes with sticky traps and rocket/pipe spam.
2. Position their combo on the most advantageous position to win a fight (usually some high-ground spot.)
3. keep their medic far back and well-protected from suicide plays.
4. Have an easy avenue of escape.
5. Protect the cap point.
If all of these objectives can be achieved from the same position, your map is bad. Forcing teams to make choices is what makes for a good competitive map that tests skill and teamwork.
If you have any questions or comments don't hesitate to post them below, and I'll try to address them to the best of my ability. There are still quite a few details that I don't have sorted yet, but I wanted to get this post up as soon as possible to allow you to start mapping immediately while I sort out the details.
Some notable details I still need to sort out:
Who will be on the panel that picks out the final three maps?
How will the final tournament be organized, who will sponsor it and which teams will be invited?
How will we ensure that all maps receive proper feedback and play-testing?
I'm working to resolve these questions and many more details, so while I work on that you guys can start creating new and awesome maps.
Happy mapping!
Last edited: