After years of mapping and a little bit of modelling, I have noticed something interesting.
First off, one day I learned that stair climbing ratios in the real world are the most comfortable when they follow the
Golden Ratio
. I quickly realized that the popular TF2 stair ratios of "2:3" and "1:2" are just simple approximations of the Golden Ratio.
Later I read up about the brothers of the Golden Ratio: The
Metallic Means
.
It took me a while after that, but after making a rather wide doorway it suddenly struck me: What if that doorway I'm making is using the
Silver Ratio
?
And long story short, I started measuring a lot more ratios in TF2. I ended up with this image:



Purple

- Stair or Ramp


Blue

- Doorway


Red

- Rectangular Object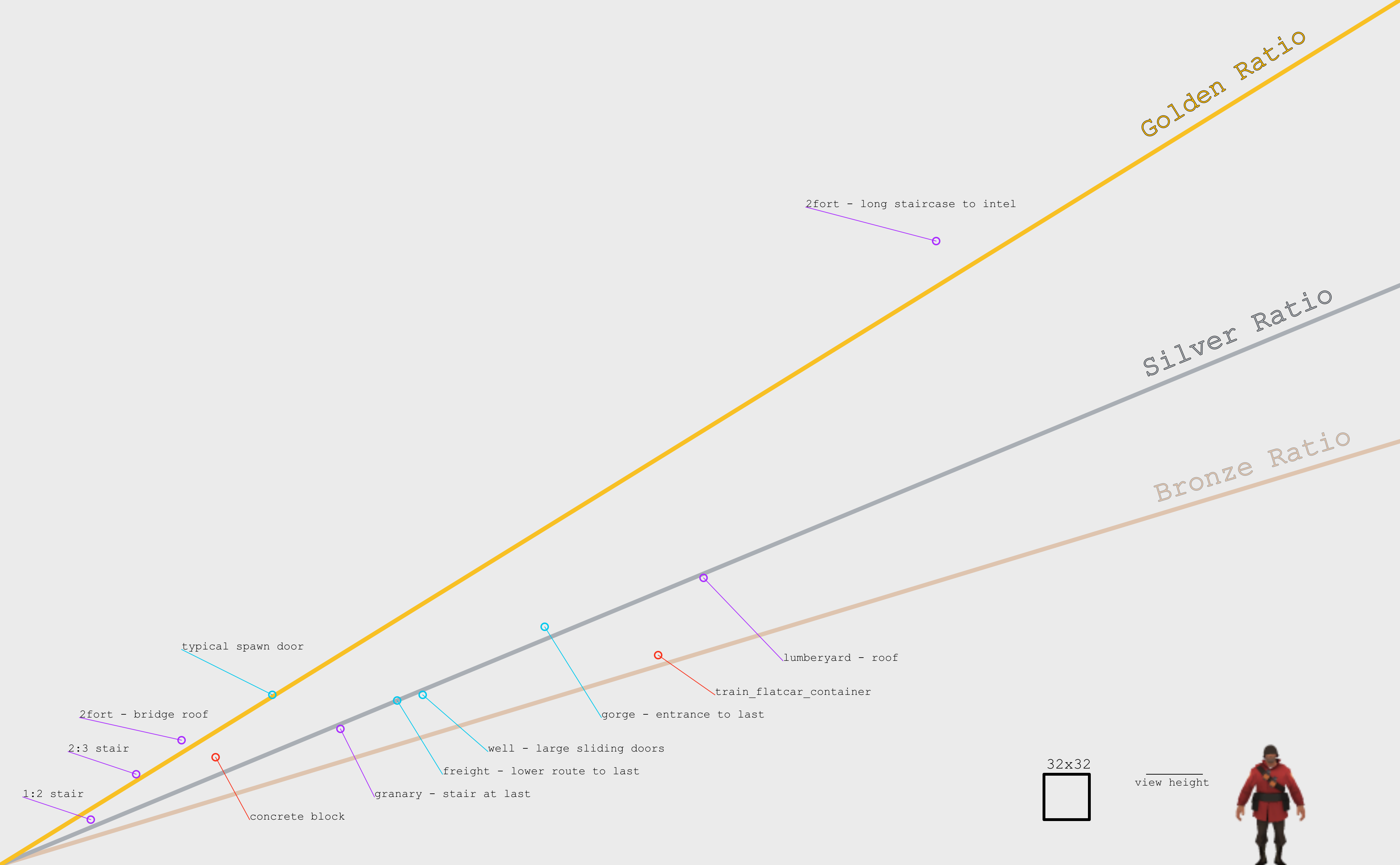 SVG: https://puu.sh/yOq3p.svg
So what?
As I have mentioned before, stairs that follow the Golden Ratio are the most comfortable to use in real life. Besides, the Golden Ratio appears again and again in art because of how nice it is.
To me this means that whenever you want to make a stair, a doorway, or a rectangular object, try to stay close to one of these ratios. (Having a calculator nearby might be helpful!) This should keep things nice looking and nice feeling. Even if you aren't activly thinking about it, you will probably end up hitting one of these ratios rather well simply because of how good they look and feel.
Also, I didn't really talk about the most basic ratio of them all: 1:1
It appears rather often too, but it's too obvious, simple and boring to really talk about. However, this doesn't mean it's any less good!
It might also be important to talk about ramps and other things with an exremely shallow angle.
The Metallic Means are an infinite family of ratios. If I were to draw all of them, the difference between them would decrease rapidly to the point where it's just a mess of lines covering the screen.
So, when given a ratio which has a much larger number on the top than on the bottom, like 256:48, there's a much higher chance of it being very close to a Metallic Mean. Because of this, it becomes unneccessary to consider the ratio of a ramp that is barely going upwards.