Steel Pier Theater Font
v1
Letters. A lot of them.
Here are a whopping 60 letters, digits and other symbols; inspired by the large text from one of the Steel Pier theaters in atlantic city during the previous century.
Each model comes in 4 sizes (192, 128, 96 and 64 units tall) with 4 skins (white, black, red and blue).
The models are in the folder
"props_text/steel_pier_theater"
. Letters include the word
"letter"
and digits include the word
"digit"
. Other symbols have more specific words, such as
"punct"
(for punctuation),
"diacritic"
,
"extra"
,
"star"
,
"bar"
and
"circle"
.
Since these are separate models, they are not very efficient to render and can quickly clog up the prop_static limit of 2048 props per map. Once you have finalised your arrangement of models, I can combine them
for free
into one single prop_static model. I can even include other unique features. But please make sure it's actually worth doing this, such as your map reaching RC.
Special Notes:​
The letter O and digit 0 have the same model. I decided to name it

"letter_o_digit_0"

because of this.
The german letter ß/ẞ (Eszett) does not exist because it was not used in capitalized writing at that time. The capital ẞ was only invented a few years ago!
The euro did not exist yet.
The soviet ruble existed, but there was no symbol for it. There are no cyrillic characters here anyways.
The models have overlapping UV space, meaning that lightmapping is not supported.
Screenshot of all symbols: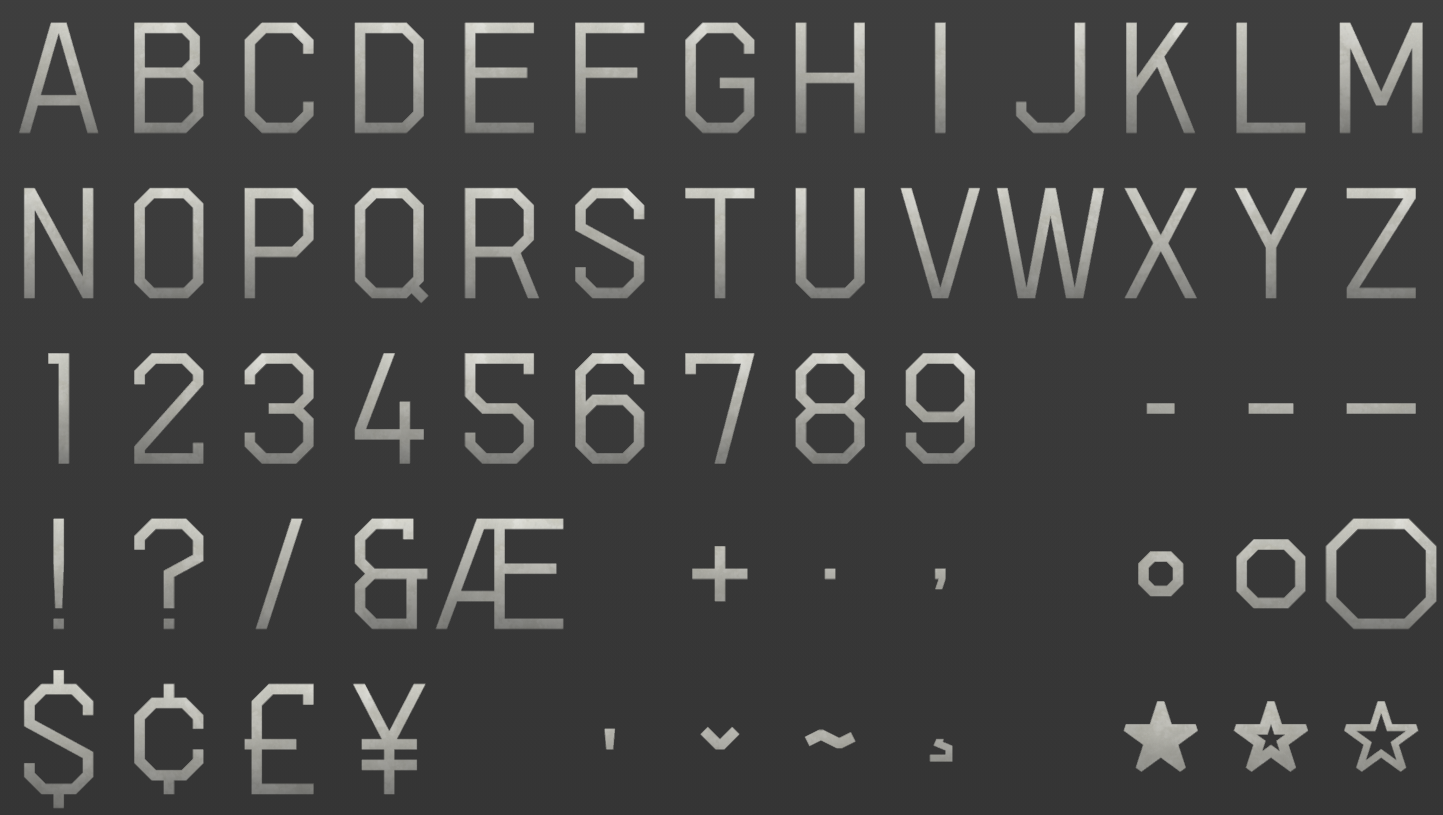 Screenshot of sizes comparison: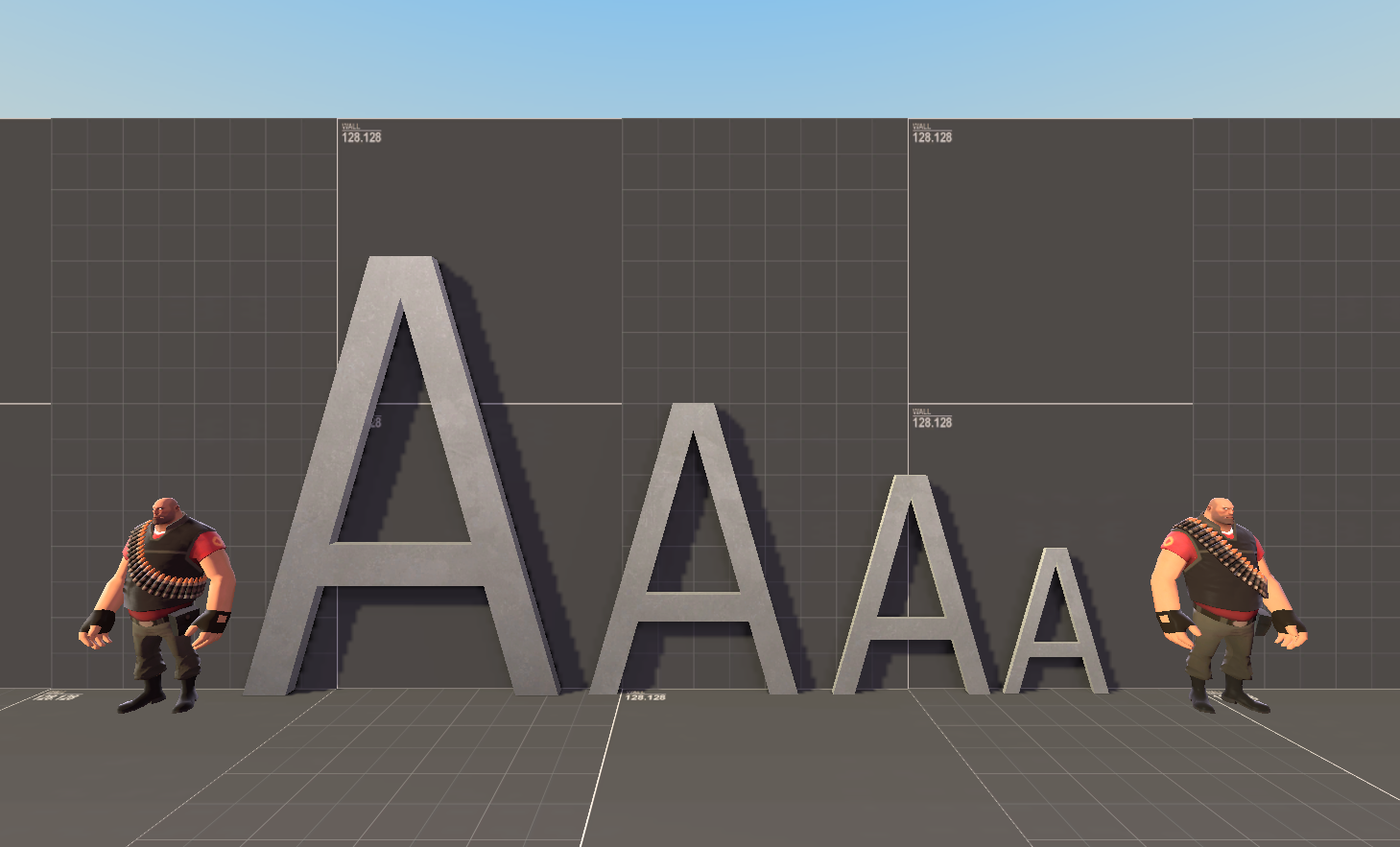 Screenshot of colors/skins comparison:
text001
text002
text003
text004
bar_long_128
bar_long_192
bar_long_64
bar_long_96
bar_medium_128
bar_medium_192
bar_medium_64
bar_medium_96
bar_short_128
bar_short_192
bar_short_64
bar_short_96
circle_large_128
circle_large_192
circle_large_64
circle_large_96
circle_medium_128
circle_medium_192
circle_medium_64
circle_medium_96
circle_small_128
circle_small_192
circle_small_64
circle_small_96
currency_cent_128
currency_cent_192
currency_cent_64
currency_cent_96
currency_dollar_128
currency_dollar_192
currency_dollar_64
currency_dollar_96
currency_pound_128
currency_pound_192
currency_pound_64
currency_pound_96
currency_yen_128
currency_yen_192
currency_yen_64
currency_yen_96
diacritic_apostrophe_128
diacritic_apostrophe_192
diacritic_apostrophe_64
diacritic_apostrophe_96
diacritic_cedilla_128
diacritic_cedilla_192
diacritic_cedilla_64
diacritic_cedilla_96
diacritic_tilde_128
diacritic_tilde_192
diacritic_tilde_64
diacritic_tilde_96
diacritic_wedge_128
diacritic_wedge_192
diacritic_wedge_64
diacritic_wedge_96
digit_1_128
digit_1_192
digit_1_64
digit_1_96
digit_2_128
digit_2_192
digit_2_64
digit_2_96
digit_3_128
digit_3_192
digit_3_64
digit_3_96
digit_4_128
digit_4_192
digit_4_64
digit_4_96
digit_5_128
digit_5_192
digit_5_64
digit_5_96
digit_6_128
digit_6_192
digit_6_64
digit_6_96
digit_7_128
digit_7_192
digit_7_64
digit_7_96
digit_8_128
digit_8_192
digit_8_64
digit_8_96
digit_9_128
digit_9_192
digit_9_64
digit_9_96
extra_ampersand_128
extra_ampersand_192
extra_ampersand_64
extra_ampersand_96
extra_plus_128
extra_plus_192
extra_plus_64
extra_plus_96
extra_slash_128
extra_slash_192
extra_slash_64
extra_slash_96
letter_ae_128
letter_ae_192
letter_ae_64
letter_ae_96
letter_a_128
letter_a_192
letter_a_64
letter_a_96
letter_b_128
letter_b_192
letter_b_64
letter_b_96
letter_c_128
letter_c_192
letter_c_64
letter_c_96
letter_d_128
letter_d_192
letter_d_64
letter_d_96
letter_e_128
letter_e_192
letter_e_64
letter_e_96
letter_f_128
letter_f_192
letter_f_64
letter_f_96
letter_g_128
letter_g_192
letter_g_64
letter_g_96
letter_h_128
letter_h_192
letter_h_64
letter_h_96
letter_i_128
letter_i_192
letter_i_64
letter_i_96
letter_j_128
letter_j_192
letter_j_64
letter_j_96
letter_k_128
letter_k_192
letter_k_64
letter_k_96
letter_l_128
letter_l_192
letter_l_64
letter_l_96
letter_m_128
letter_m_192
letter_m_64
letter_m_96
letter_n_128
letter_n_192
letter_n_64
letter_n_96
letter_o_digit_0_128
letter_o_digit_0_192
letter_o_digit_0_64
letter_o_digit_0_96
letter_p_128
letter_p_192
letter_p_64
letter_p_96
letter_q_128
letter_q_192
letter_q_64
letter_q_96
letter_r_128
letter_r_192
letter_r_64
letter_r_96
letter_s_128
letter_s_192
letter_s_64
letter_s_96
letter_t_128
letter_t_192
letter_t_64
letter_t_96
letter_u_128
letter_u_192
letter_u_64
letter_u_96
letter_v_128
letter_v_192
letter_v_64
letter_v_96
letter_w_128
letter_w_192
letter_w_64
letter_w_96
letter_x_128
letter_x_192
letter_x_64
letter_x_96
letter_y_128
letter_y_192
letter_y_64
letter_y_96
letter_z_128
letter_z_192
letter_z_64
letter_z_96
punct_comma_quote_128
punct_comma_quote_192
punct_comma_quote_64
punct_comma_quote_96
punct_exclamation_128
punct_exclamation_192
punct_exclamation_64
punct_exclamation_96
punct_period_dot_128
punct_period_dot_192
punct_period_dot_64
punct_period_dot_96
punct_question_128
punct_question_192
punct_question_64
punct_question_96
star_filled_128
star_filled_192
star_filled_64
star_filled_96
star_thick_128
star_thick_192
star_thick_64
star_thick_96
star_thin_128
star_thin_192
star_thin_64
star_thin_64
star_thin_64
star_thin_96
Note for Workshop uploads:
You must add me as a contributor if you use this model in a Team Fortress 2 Workshop upload.
Please also notify me when you do this. I can be contacted on Discord as Tumby(hash)5171 and via e-mail at tumbolisu(at)gmx(dot)de.
License

Credit is required. Permission to modify required.