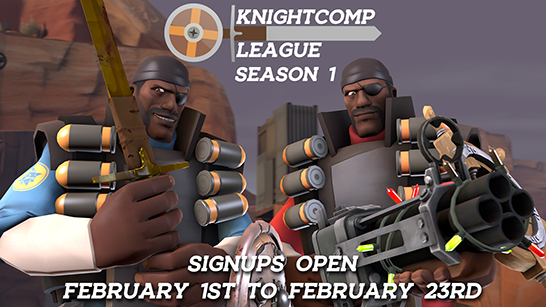 KnightComp
is a new competitive game mode designed to give Demoknight players a share of the competitive action! Season 1 of KnightComp will serve as the means to determine who the best team of Demoknights truly is.
If your Eyelander keeps whispering at you to collect some heads, this is the best opportunity for you to do so. Maybe even steal some from an opposing Demoknight?
Season 1 of KnightComp is starting on February the 24th, with sign-ups ending on February the 23rd. If you want to participate, make sure you find a team before the 23rd! You can find teams by joining the
KnightComp League Discord server
, and join the league itself though the
Match.tf page
.
If you have any questions about the rules or anything else, check out the
KnightComp Steam Guide
for more information. Alternatively, you can ask the admins on the support channel in Discord if you still can't find your answer.
Read on the TF2 Blog...