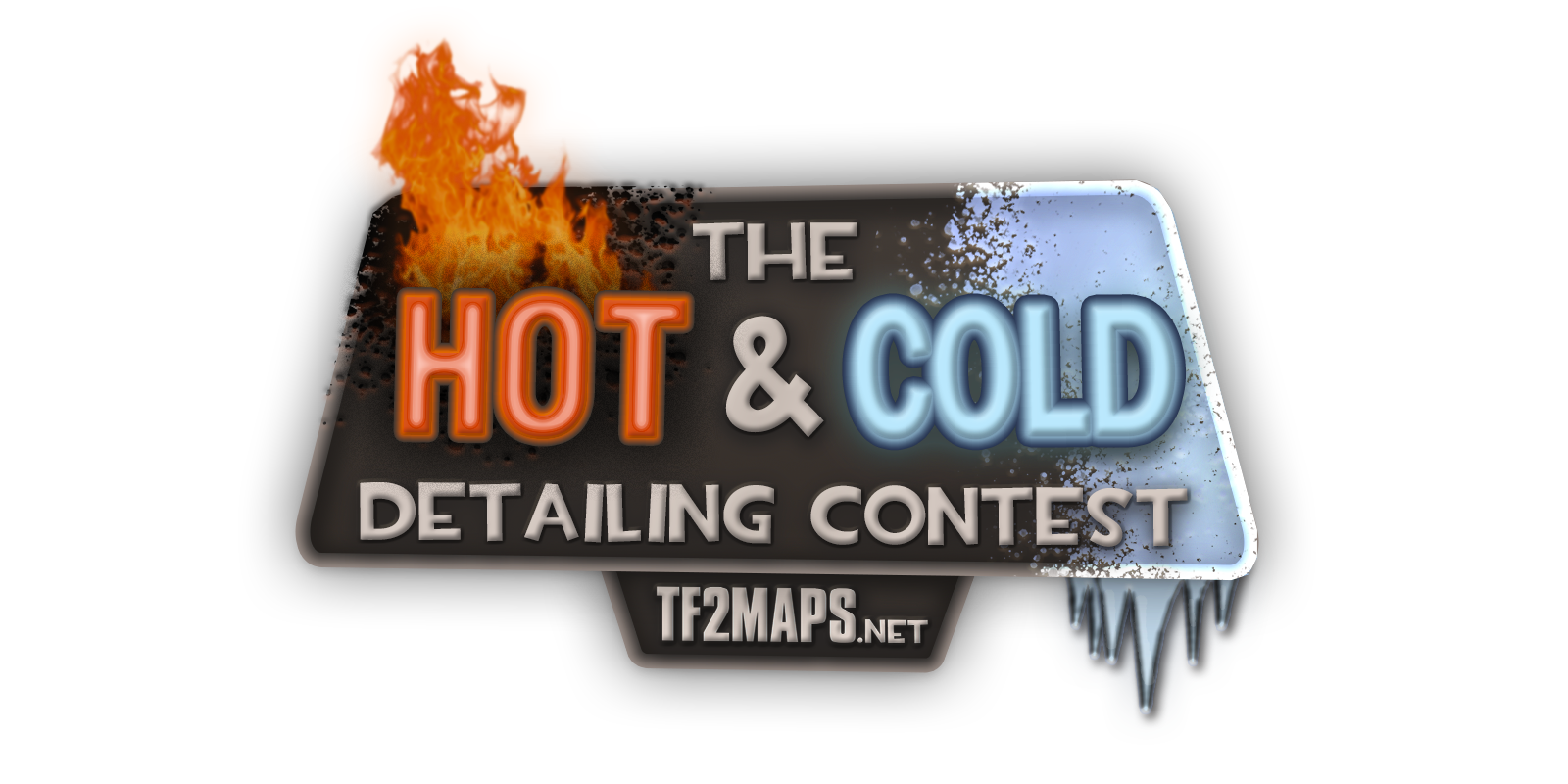 Rules and Information | Upload Thread | Voting | Results​
Every year, billions of people around the globe experience temperatures. A tragedy, I know. From the extreme lows of the north and south poles, to the extreme highs of the equator, there's a lot of variance in temperature throughout the world. However, we already did a location-based detailing contest, so this time it's a little different. Presenting our newest detailing contest: The Hot & Cold Detailing Contest!
This time around, our theme/restriction is to create a 4096x4096 detail scene that is
based around being either very hot or very cold!
Bonus (fictional) points for doing both in the same scene! This doesn't mean the entire scene needs to be covered in snow or lava, just so long as it can fit the theme!
Rules:
4096x4096 size. No height limit. This size limit only includes the areas players can access as well as any 'out of bounds' areas.
3D skybox is allowed.
Custom content is allowed as long as it fits one or both of the following criteria: It is made entirely by yourself, or available for public download prior to the start of the contest.
Collaborations are not allowed.
Maximum of two entries per person.
Your map must be TF2 styled.
Your map must be able to run within TF2 (doesn't crash the game, properly boots, etc).
Your submission MUST follow this naming convention: hotandcold_<forum name>.bsp (If your forum name is absurdly long, please abbreviate where you can)

If you submit two entries, add a "_2" to your second entry.

Everything must be finished and submitted in the upload thread before the deadline! Upload thread will be made available two weeks prior to the deadline and you are allowed to submit at any time within that period, and update your entry as many times as necessary before the deadline. No extensions will be given.
Deadline:
The contest
begins as of this post.
The deadline is
8:00AM 31st July 2023 UTC+0

Please see below for local time

PST -- 12:00 AM, 31st July 2023
MST -- 1:00 AM, 31st July 2023
EST -- 3:00 AM, 31st July 2023
BST -- 9:00 AM, 31st July 2023
CST/SGT/AWST -- 4:00 PM, 31st July 2023
JST/KST -- 5:00 PM, 31st July 2023
AEST -- 6:00 PM, 31st July 2023
NZST -- 8:00 PM, 31st July 2023
Submission Format:
In your submission:
A link to your .bsp in the naming format above. Please compress your map also.
Please make sure ALL content is packed into your BSPs, but please make sure it follows the custom content rules above. I recommend CompilePal.
Provide a short description of your map, without a screenshot, as well as a note which states which theme you chose (hot / cold).
Prizes:
(Prizes available as either Steam or Marketplace.tf Credit)
First place:
$100 USD
Mapper's Medallion
Second place:
$50 USD
Third place:
$25 USD
FAQ:
What can we map? What's with the theme? Can I get clarifications?
You can map anything so as long as it abides by the rules. The theme is yours to interpret how you wish, but as long as your entry makes a conceited effort at appearing either "hot" or "cold", you should be fine! Try your best to embrace the sprit of the theme, and be creative! Of course, if you have any further questions feel free to ask and I will do my best to answer.
Can we detail an existing unfinished map?
Yes, as long as it fits within the size constraints and was made by you, and has had no previous detail work done.
Does the 3d skybox also have to be inside the 4096x4096 space?
Yes, the skybox must fit within the limits, however remember that there is no limit to height so you can put it above or below the map safely.
What is judged as detail?
The judging process at the end of the contest is essentially players wandering through maps and voting on whichever they liked best. So you should add anything that would help improve the 'experience' of the map. This includes logic, sound, animations, etc.
Can I donate to the prize stash?
Of course! This would be highly appreciated, but not at all required.
Where can I get some useful assets for this contest?
Right here!:
Last edited: