Japan Pack Expansion
- An expanded selection of props for the Japan pack!
JAPAN PACK EXPANSION PART I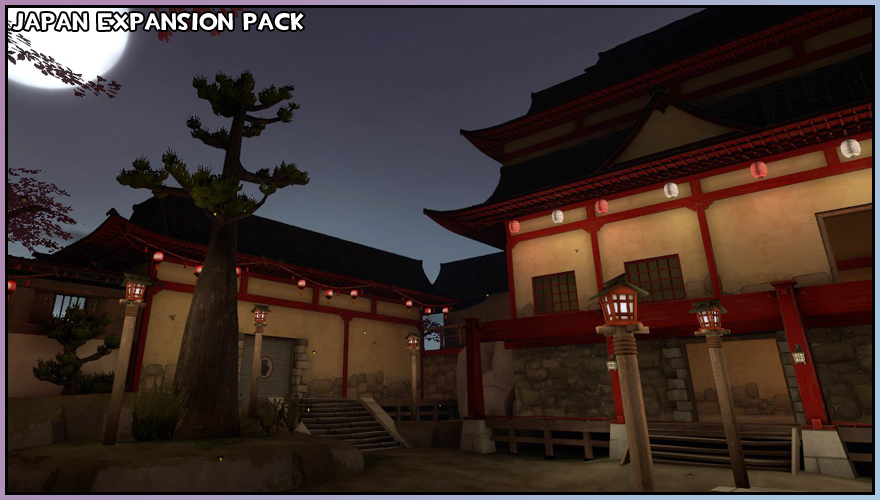 Created by EArkham 2016
http://steamcommunity.com/profiles/76561198000713080
If you need to add me as a contributor for the workshop, PLEASE MSG ME HERE FIRST since I ignore all adds due to bot/trader spam.
Some content is derivative of official Valve content, all rights reserved.
A collection of custom models and assets to enhance the Japan Pack.
This content set will be updated periodically.
Please do not redistribute these assets in any way EXCEPT when used, visible, and packed inside a functional custom map!
Current version of this asset pack is: B2 AUGUST 13th 2016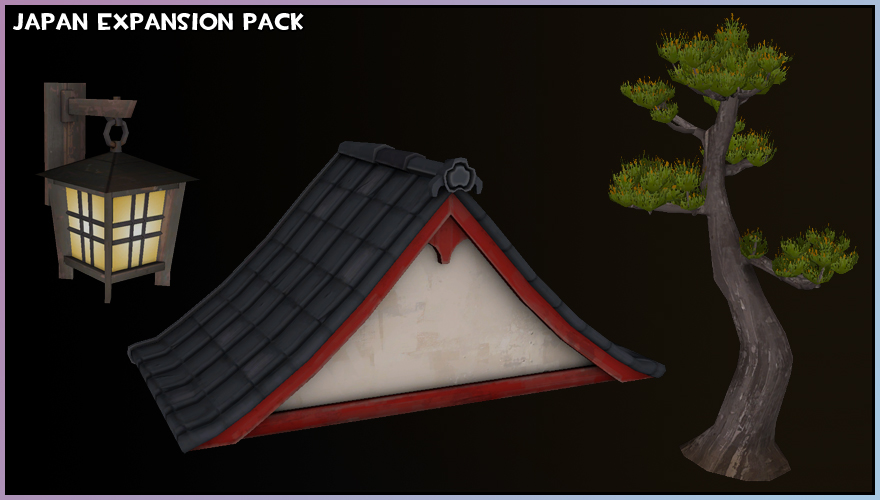 INSTRUCTIONS
Unzip this archive into your 'C:\Program Files (x86)\Steam\steamapps\common\Team Fortress 2\tf\custom' folder.
Alternately if you use an automatic packing tool such as VIDE:
Unzip this in a seperate folder, then move everything inside '/props_japan/' (folders '/models/' '/materials/' etc) directly into your 'C:\Program Files (x86)\Steam\steamapps\common\Team Fortress 2\tf\' folder.
Start up Hammer through your preferred method. All assets can be found with the keyword 'Japan'.
PARTICLE INSTRUCTIONS
To use the firefly particles, create an info_particle_system and place it in your map where you would like the fireflies to roughly appear.
For "Particle System Name" use 'parent_fireflies' (without quotes). Make sure "Start Active?" is set to "Yes."
Optionally you may want to flag these particles as weather.
When you have compiled a map using the particles, make a copy of prefix_mapname_version_particles.txt, rename it to match your map's name. If your map is "koth_example_b1," then the manifest will be called "koth_example_b1_particles.txt". Place this file in the same folder as your map.
You might see console errors mentioning that particles "failed to precache." Don't worry about this; it's normal with custom particles.
As long as your particles manifest is in the correct location, and your info_particle_system entities are correctly set up and turned on, you should see fireflies drifting along lazily in game!
Recommended that you use night or dusk settings when using the firefly particles.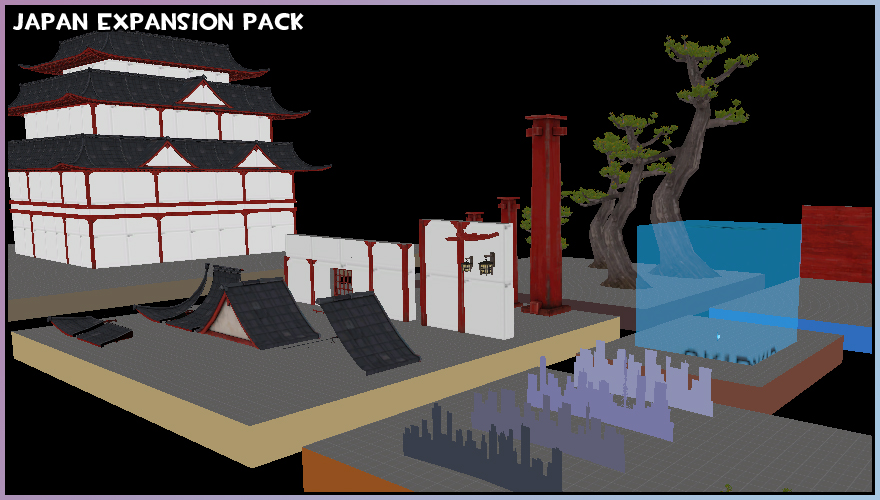 CONTENTS
SKYBOX TEXTURES:
None
MAPS:
mapsrc\japan_II_zoo_b2.vmf
MODELS:
models\props_japan\temple_roof01_straight_128.mdl
models\props_japan\temple_roof01_corner_128.mdl
models\props_japan\temple_roof02_low_128.mdl
models\props_japan\temple_roof02_low_corner.mdl
models\props_japan\temple_roof_irimoya_dormer_center01.mdl
models\props_japan\temple_roof_irimoya_dormer01.mdl
models\props_japan\wall_mount_lantern01b.mdl
models\props_japan\wall_mount_lantern01c.mdl
models\props_japan\detailing\courtyard_column01.mdl
models\props_japan\detailing\courtyard_column01b.mdl
models\props_japan\detailing\courtyard_column01c.mdl
models\props_japan\detailing\courtyard_column01d.mdl
models\props_japan\detailing\courtyard_minor_railing_128.mdl
models\props_japan\detailing\courtyard_minor_railing_64.mdl
models\props_japan\detailing\courtyard_wall_trim01_128.mdl
models\props_japan\detailing\courtyard_wall_trim01_128_corner.mdl
models\props_japan\detailing\courtyard_wall_trim01_192.mdl
models\props_japan\detailing\courtyard_wall_trim01_192_corner.mdl
models\props_japan\detailing\courtyard_wall_trim01_256.mdl
models\props_japan\detailing\courtyard_wall_trim01_256_corner.mdl
models\props_japan\detailing\courtyard_window01a.mdl
models\props_japan\detailing\decorative_beam01a_128.mdl
models\props_japan\detailing\decorative_beam01a_32.mdl
models\props_japan\detailing\decorative_beam01a_64.mdl
models\props_japan\detailing\decorative_beam01b_128.mdl
models\props_japan\foliage\japanese_pine001.mdl
models\props_japan\foliage\japanese_pine001_lg.mdl
models\props_japan\foliage\japanese_pine001b.mdl
models\props_japan\foliage\japanese_pine001b_lg.mdl
models\props_japan\foliage\japanese_pine002.mdl
models\props_japan\foliage\japanese_pine002_lg.mdl
models\props_japan\skybox\japanese_pine001_skybox.mdl
models\props_japan\skybox\japanese_pine001b_skybox.mdl
models\props_japan\skybox\japanese_pine002_skybox.mdl
models\props_japan\skybox\sakura_tree01_skybox.mdl
models\props_japan\skybox\sakura_tree01b_skybox.mdl
models\props_japan\skybox\sakura_tree01c_skybox.mdl
models\props_japan\skybox\skycard_tokyo001a.mdl
models\props_japan\skybox\skycard_tokyo001b.mdl
models\props_japan\skybox\skycard_tokyo001c.mdl
models\props_japan\skybox\skycard_tokyo001d.mdl
TEXTURES:
materials\japan\wood_red_beam01
materials\japan\wood_blue_beam01
materials\effects\fireflies\fireflies01 (particle effect)
PARTICLES:
particles\fireflies_fx.pcf
Last edited: