Custom HUD Point Icons
2016-02-01
Custom point icons
Custom HUD Point Icons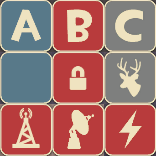 Includes:
Lettered icons (A to E)
Symbol icons (Deer head, Radio Mast, Satellite Dish, Power symbol, Reactor "Main" point for cp_reactor)
Generic icons (so as not to highlight some slight differences from the defaults)
Locked icons for most of these are just vmts pointing to icon_obj_generic_locked.
I will create more on request.
Instructions for use:
Change the HUD icons in team_control_point to the unlocked vtf names.
It'll find the locked ones itself by appending "_locked".
Make sure the icons are packed before releasing. You will need to pack them manually, as they are not present in the map.