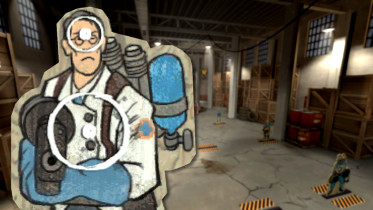 Target is a deathmatch map based off of Valve's training map seen during the Soldier, Demoman, Engineer and Spy tutorials. This is also based off of the warehouse behind the BLU team's spawn in pl_thundermountain.
Each round has a 30 second setup time which kicks off to a 30 minute deathmatch. Respawn times are 1 second, but can be instant with a server plugin. Once the 30 minutes ends, the map goes into stalemate or sudden death.
I released the BLU target props here:
http://forums.tf2maps.net/showthread.php?p=297903
Server admins
: bz2 filesize is relatively small (10mb), so it should be easy to add to your fastdl servers. I also suggest enabling sudden death!
Features:
3D skybox with parallax trees and properly working sky textures.
Thunder Mountain random thunder sound effects.
Working payload cart that acts as a level 1 dispenser to the respective team.
Randomly-spawning cardboard targets that can be shot, with textures for both teams.
Optimized for toasters. (Added: prop fade distances, smaller lightmaps, areaportals, optimized VIS cutting)
Last edited: