Florida's Deep South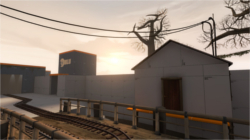 Trench into Florida's wetlands and surround yourself with marsh, mud, and alligators! RED and BLU have setup operations in the deep south to mine oil from the Everglades, except national reservation laws prevent them from accessing a lake's deposit. Whoever bombs the lake first gets to mine all the oil!
-
Being my first PLR map, this map's first version begins with one stage. I rather create one good stage and see what works than to create 3 poorly designed stages. I also deliberately kept detailing to a minimal so that the community can help decide what gets changed. This is made for the payload checklist contest.
Download's actually broken right now, not everything packed somehow.
​
Last edited: