[JTTE] Thin Banner
2018-06-30
Banner.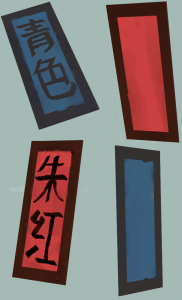 Need to make sure that anyone visiting your fortress, palace, mother's basement, or museum knows what team you are on?
These exquisite banners will do the trick. They were handmade in china by our most experienced calligraphers and paper-makers.
Disclaimers:
They are more like wallpapers. Adhesive is not supplied. Do not machine wash. Handmade by British people and robots, while in China.
(This is a submission to the "Journey to the East" contest).