Back to mapping!
Drylands is a non-linear 5-CP map (like Granary, Well, Badlands etc.). I've currently finished the layout, health/ammo placement (although that's likely to change), spawns (which are also likely to be enlarged, many are too small) and entity system.
I plan to give it a desert theme similar to Badwater. There are no roofs on some buildings in the first alpha, so I have clipped this version quite extensively to prevent some exploits from this. There are some tiny hitches here and there in the map (doors around the second points going through walls, being able to see the rest of the map). There is currently no lighting or skybox; this version has been compiled with fullbright and cordons.
It's quite important to notice that throughout the map there are only two distinct levels of floor geometry (which is not entirely obvious at first), excluding displacement ramps and stairwells. This should make the optimisation job, for me, much easier.
Screenshot of the current version: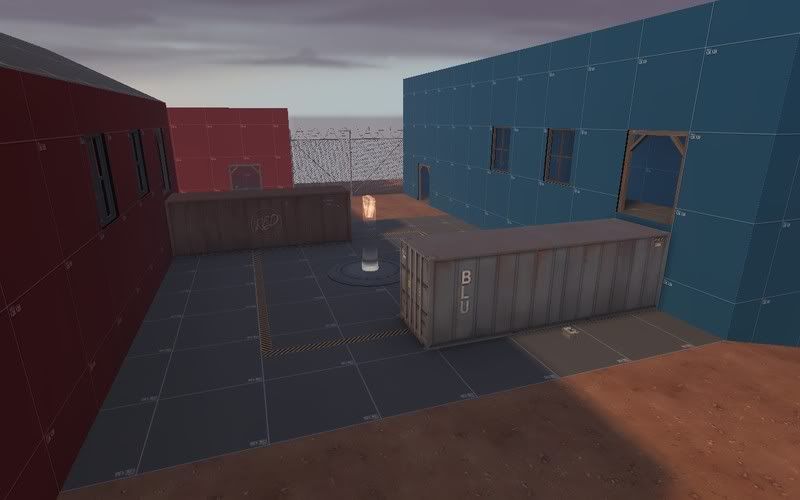 I hope to get some playtesting done with this before I begin making the necessary changes.
(First time using pakrat, so hopefully I've done it right)
Downloads (most recent in italics):
cp_drylands_a1
http://files.filefront.com/cp+drylands+a1rar/;13166256;/fileinfo.html
cp_drylands_a2
http://files.filefront.com/cp+drylands+a2bspbz2/;13188012;/fileinfo.html
cp_drylands_a2a
http://files.filefront.com/cp+drylands+a2abspbz2/;13250435;/fileinfo.html
cp_drylands_a3
http://files.filefront.com/cp+drylands+a3rar/;13308695;/fileinfo.html
cp_drylands_a4 http://files.filefront.com/cp+drylands+a4rar/;13384170;/fileinfo.html
(Contains .bsp, readme and .bz2 for server admins)
Last edited: