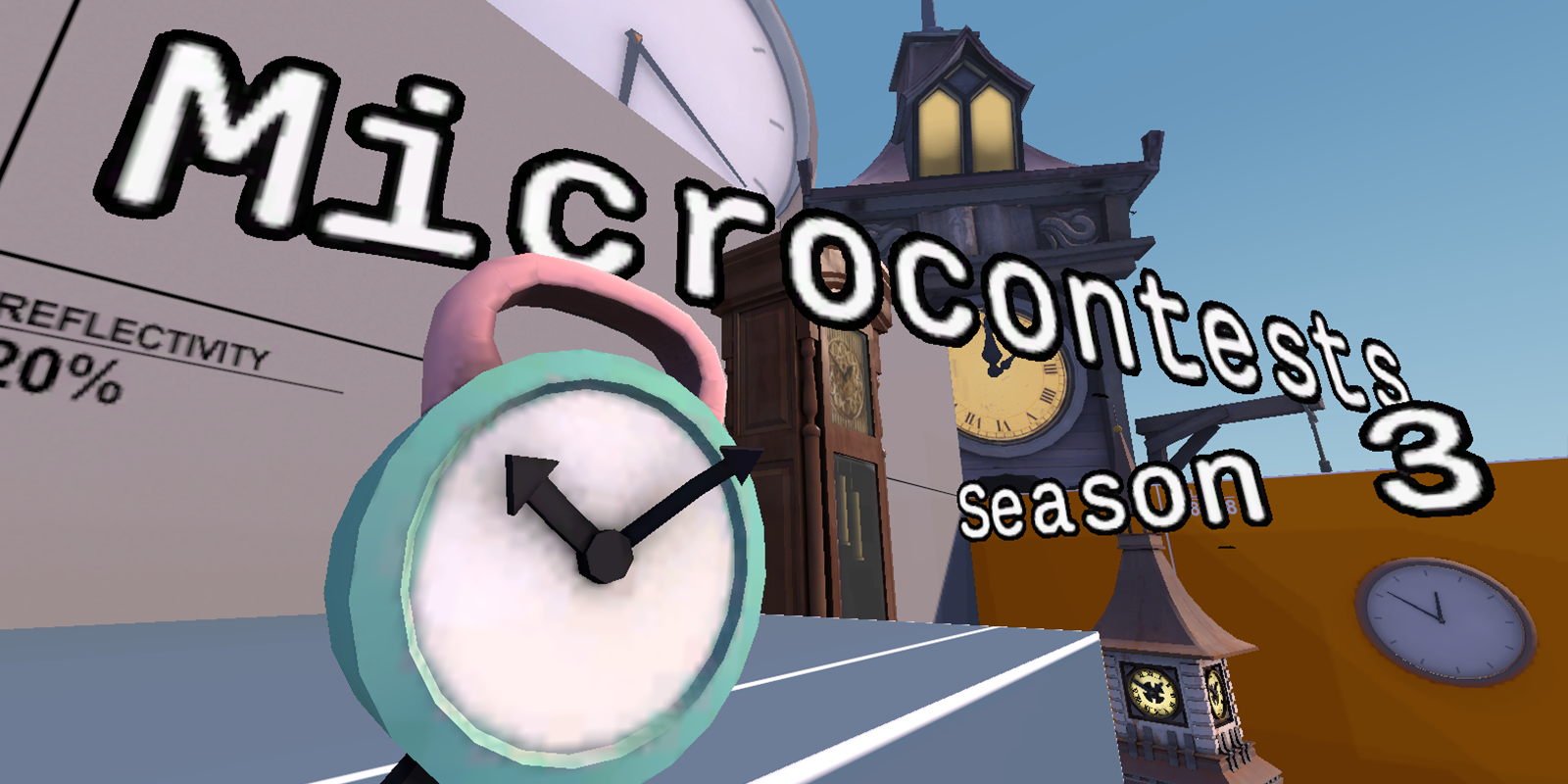 Do you like making maps with strange requirements under strict time constraints? Well, have I got news for you! Welcome to Season 3 of our 24 hour microcontests! Microcontests are not traditional contests with winners and losers; they are personal challenges designed to get you to explore new ideas. It's just you against the clock!
HOW IT WORKS:
The date and time of a microcontest will be announced in this thread an on the Discord a few days before it begins
At the designated starting time, microcontest rules will be revealed
You have 24 hours from that point to make a functional map that follows the rules
Testing will begin approximately one hour after the deadline
Feedback from me will be posted within a few days of the end of the testing
WHAT'S NEW FOR SEASON 3:
There will only be 5 microcontests instead of 10.
There's no manditory one-hour planning period; you may start as soon as the rules are posted.
The punchcards have been replaced with a redesigned stamp card!
THE STAMP CARD: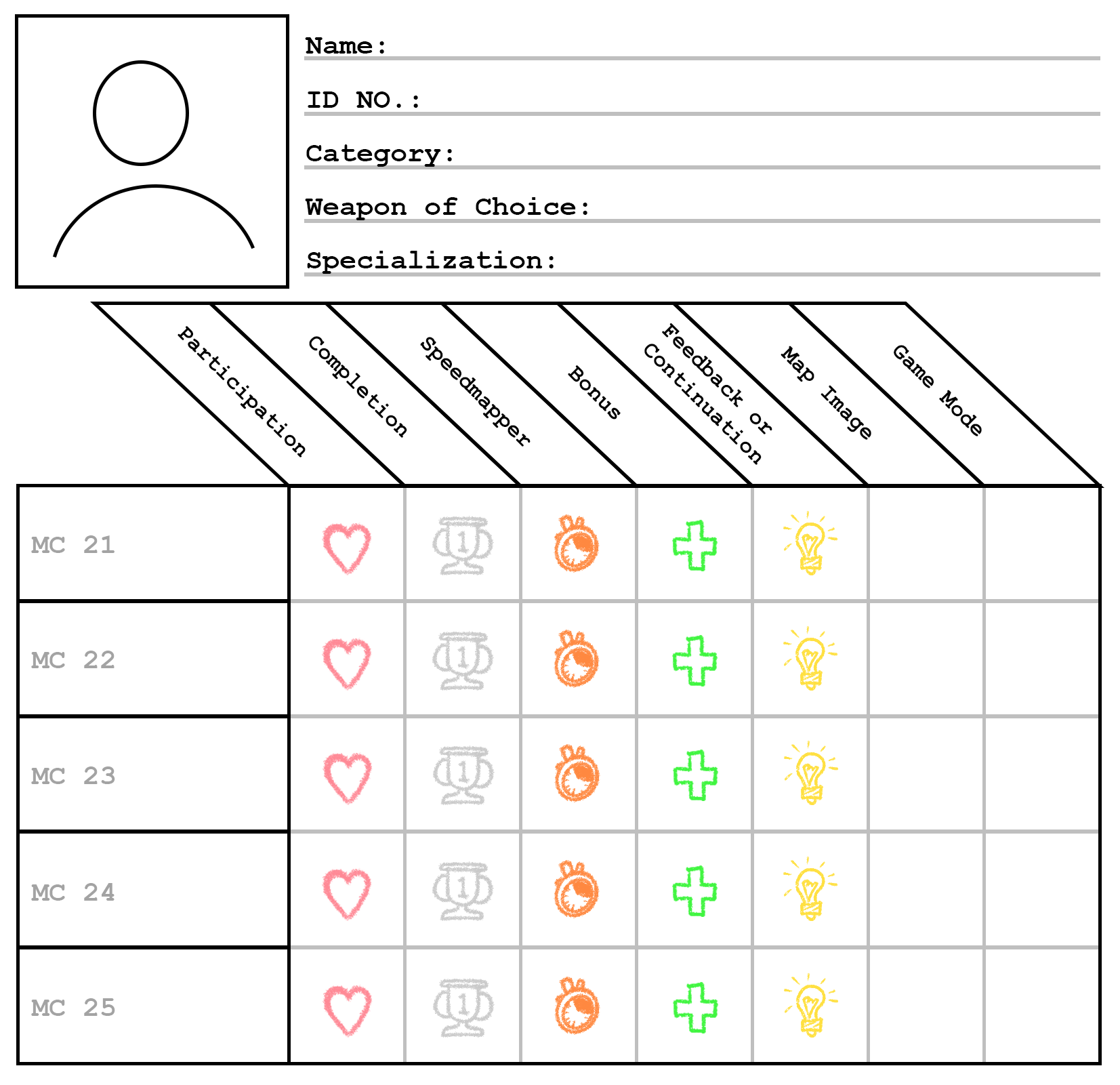 Say hello to the new Stamp Card! You can customize it and use it to track your progress this season, collecting up to five stamps each microcontest:
Participation Stamp: Start an entry
Completion Stamp: Finish your entry for the microcontest
Speedmapper Stamp: Complete the geometry of your entry in under 4 hours
Bonus Stamp: Complete the microcontest's optional bonus challenge
Feedback or Continuation Stamp: Doing either of the following will earn you this stamp:

Write feedback on all the microcontest entries
Continue work on your map after the microcontest has ended and release at least one additional version
The Stamp Card is entirely optional and purely decorative; you can ignore it if you don't feel like making one. The raw .psd file is included in an attachment to this post, if you would like to customize it further.
If you'd like to see what people did with them last year, check out the
punchcard showcase season 2 thread!
FAQ:
Can I test my map before the deadline?
You are free to compile and run around in your map, but you may not test it with other players before the deadline or you will not receive written feedback from me.​
How do I win? It's called a contest!
Microcontests orginally started off as actual contests, but quickly grew too large to fairly judge. Additionally, I wanted them to encourage experimentation and trying things that would tradditionally be considered "bad design," which didn't really fit with them being judged. Nowadays, the "contest" portion of the name refers to pitting you and your skills against the clock; as long as you finish before time is up, you've won!​
How does the Speedmapper Stamp work?
The Speedmapper Stamp only counts time working on geometry. Planning, compiling, bug fixing, lighting, logic, clipping, sealing, and other things that aren't physical playable spaces do not count towards the four hours.​
How to I sign up?
You do not need to sign up anywhere to participate. All you need to do is post a link to your playable map in a reply to the microcontest's thread before time is up!​
When's the next one?
If you want to stay informed about upcoming microcontests you can watch this thread, explore the #microcontests-2022 channel in the Discord, or join the Microcontestant role in the Discord server by heading to the #roles channel and clicking on the clock emoji near the top!​
Additionally, here's a chart with this season's microcontests with dates and difficulties. This will be updated as microcontests are announced.
If you've got any more questions, feel free to leave them below or head over to the #microcontests-2022 channel on the Discord. Good luck everyone, I can't wait to see what you all make!
Last edited: