Header by Diva Dan, Kubeking, and Void. Featuring content from Ducksink, Square, Majora, Diva Dan, Sedisocks, Barno, Jeddyk, Erk, BiedroN, PootisGodAnimations, AxioMr, Kikouille Master, Pybun, and Hutty.
It's that time again! Our most recent charity Jam wrapped a few weeks ago, and now it's time to showcase some of the best content you all made! Get ready, because this time we're showcasing exactly 100 of the best things made during the Jam!
This year we received 387 entries, a bit lower than last year's 625 entries. But don't worry, as together we've beat last year's total donations by over $2000, giving us a total of around $6500 (and counting!), through cash, and item, and Scrap.tf round-up donations as of writing this post! All of this is going to The Trevor Project this time around, a cause that's important to a lot of us at TF2maps.net. I'm very proud of our entire community who came together to raise this much.
Of those 387 entries,130 were maps, 33 were items or models, and 178 were drawings, SFM renders, or other works of visual art. We also got 8 videos, two entries of music, and one entry labeled as food. Despite the lower number of entries, the quality has gone up! Last year we had 95 showcase items (15.2% of the 625), but this year we have an even 100 (25.8%)!
Acknowledgements​
Before we begin, some thanks are in order to those who helped make this whole thing possible. Special thanks to
@Void
for organizing the jam again, and a shout out to
@Idolon
for creating and organizing the spreadsheet of entries we use to sort through them. Also a quick shoutout to
@Geel
for setting us up with a way to accept TF2 items as donations, as well as the "Round Up" donation feature on Scrap.tf (which was responsible for much of the donations this time around!)
Next up is everyone who helped sort though the entries for the showcase:
@Berry
,
@Another Bad Pun
,
@Diva Dan
,
@Erk
,
@Flipy
,
@LoovyTurgz
,
@Idolon
, and
@Startacker!
I'd also like to personally thank the rest of staff, the server mods, and our silver stars as well for watching chat while I was streaming. Thanks! Oh, and extra huge thanks to
@LoovyTurgz
for running near-continuous map tests for 30+ of the 72 hours. And as always, a shout out to
@Crash
and
@Fr0Z3nR
for creating the Jam concept in the first place. We wouldn't get to do this without you!
I'd also like to thank the Trevor Project for partnering with us for our third charity drive! We broke our donation records this time, and we are looking forward for doing more Jams in the future. And finally, I'd like to thank you—yes,
you
—the one reading this! Without you and the rest of the community there would be no jam. I'm honored to be able to call myself a part of this amazing group of talented people who hang around TF2maps.net.
Now that that's out of the way, on with the showcase!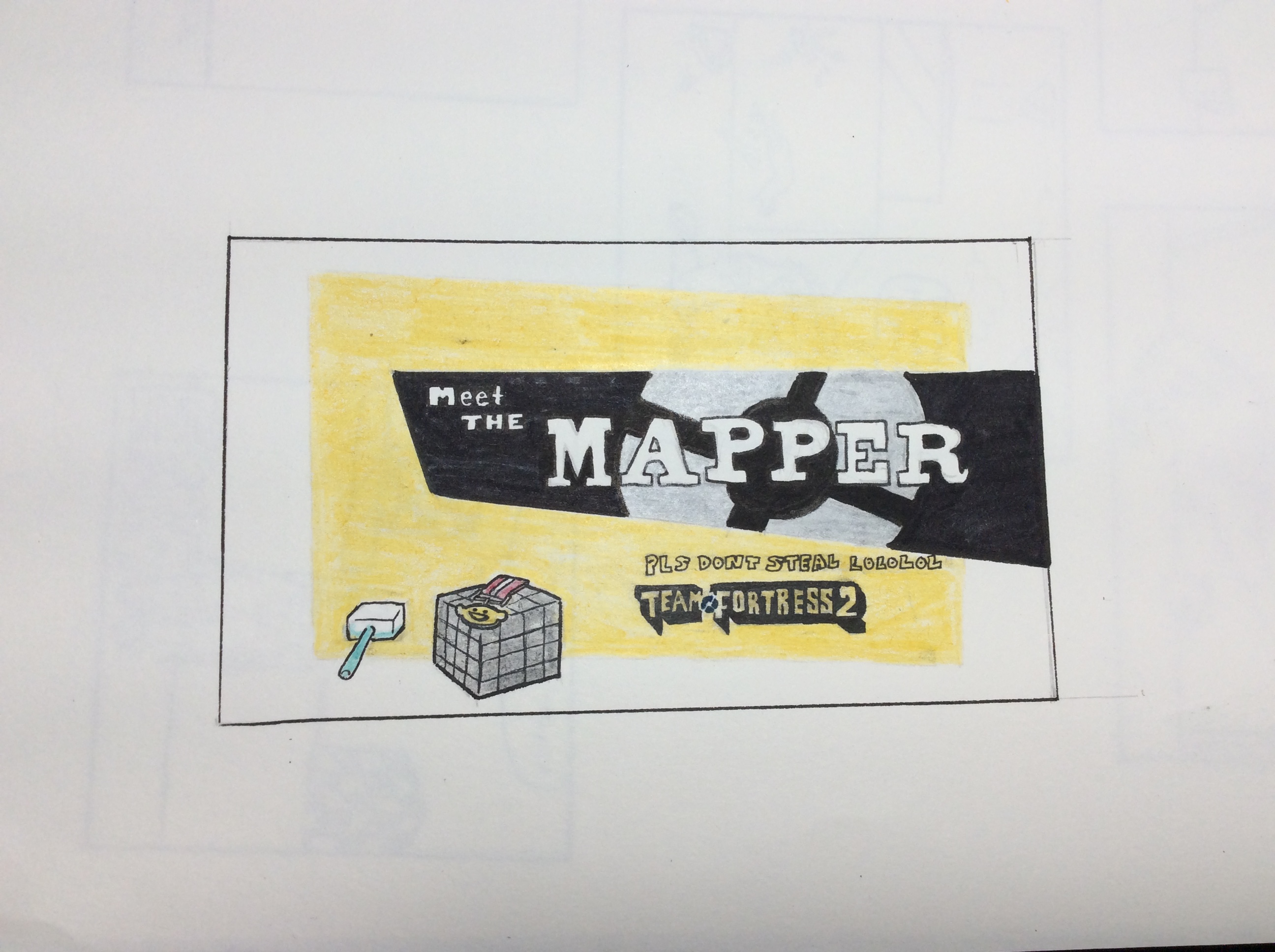 Let's start our showcase off strong with the rather lengthy
Meet the Mapper comic
by winter jacket! It's well worth a read. And speaking of monochromatic art, we also have the
Airshot Bride
by Loth!
Next up we have the beautiful hand-drawn
Dispenser
by I.E.L 2, and the super neat
Builders League, Unite!
by EndMark_3!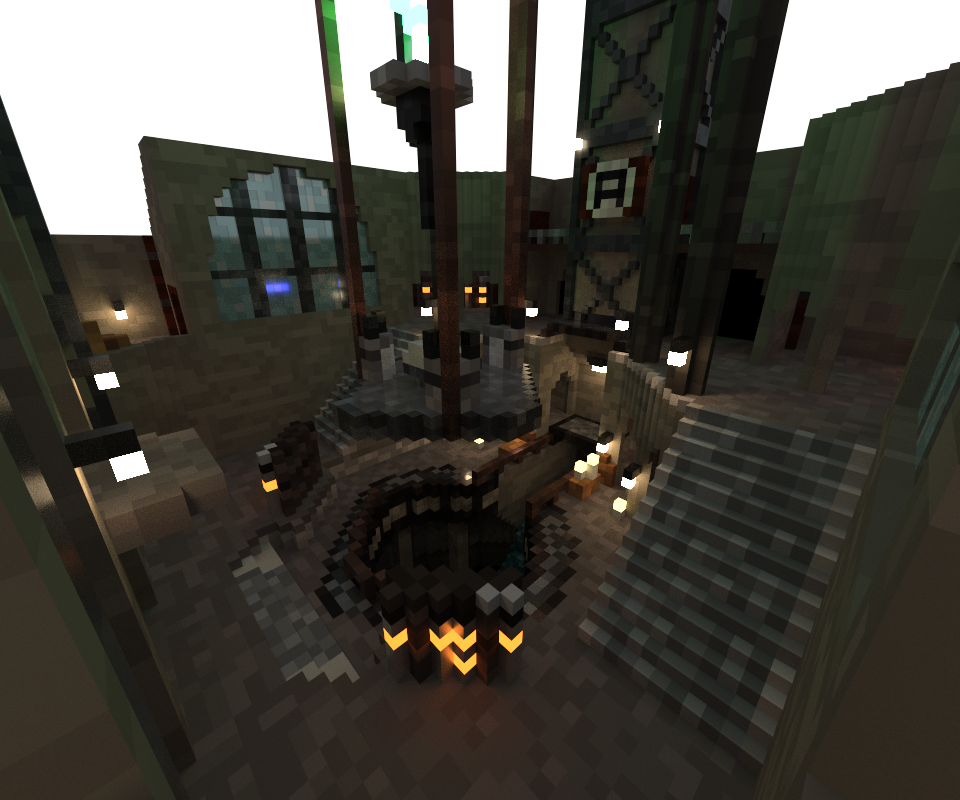 If you'd like some art with a bit more depth, check out Lo-fi Longcat's
Monster Bash Voxelised
, or perhaps the
Lego Payload Cart
by zandergb.
If you're looking for a cuteness overload, be sure to look at
Healing
by TheLazerSofa, or JeannP's
New to rocket jumping
! If you want more Soldier after that (albeit less cute), we've also got the
Solders' Salute
by FunkEdge!
If you're looking for more of the team in one picture, look no further than
Beach Day Mercs
by DemoN K!ng, Zefraxus, and Wick666, or
The Team
, created in Gmod by ✘─│─ʀ.Karate II.
We got some great artwork of the Spy this year as well; the
Ratification of the spy
by Crispy Patty is a particular highlight, as well as the super cute
Pixelart Spycrab
by Appa!
Just like last year, Pyro got a lot of love. Up first is one of my favorites, the
Dreaming Astronaut
by VR456, shown right.
Pyro tries his hand at cooking in MOTO's
oh no
, and looks to the stars in
lights
by le bucket. They also look not to the stars, but directly at you in Dactir's
Pyro fan art.
To round out the Pyro collection, we also have the stunning
JAWS | Pyroshark Recreation
by loley and the wondrous
just a small little tiny minuscule pyro
by The Bran Man. They're so cute!
We also got a great collection of
5 spray paints posters
by onra77. I love these!
And finally my favorite bit of artwork, the cover to
Beep Man's Adventures
by Veliass! Incredible work!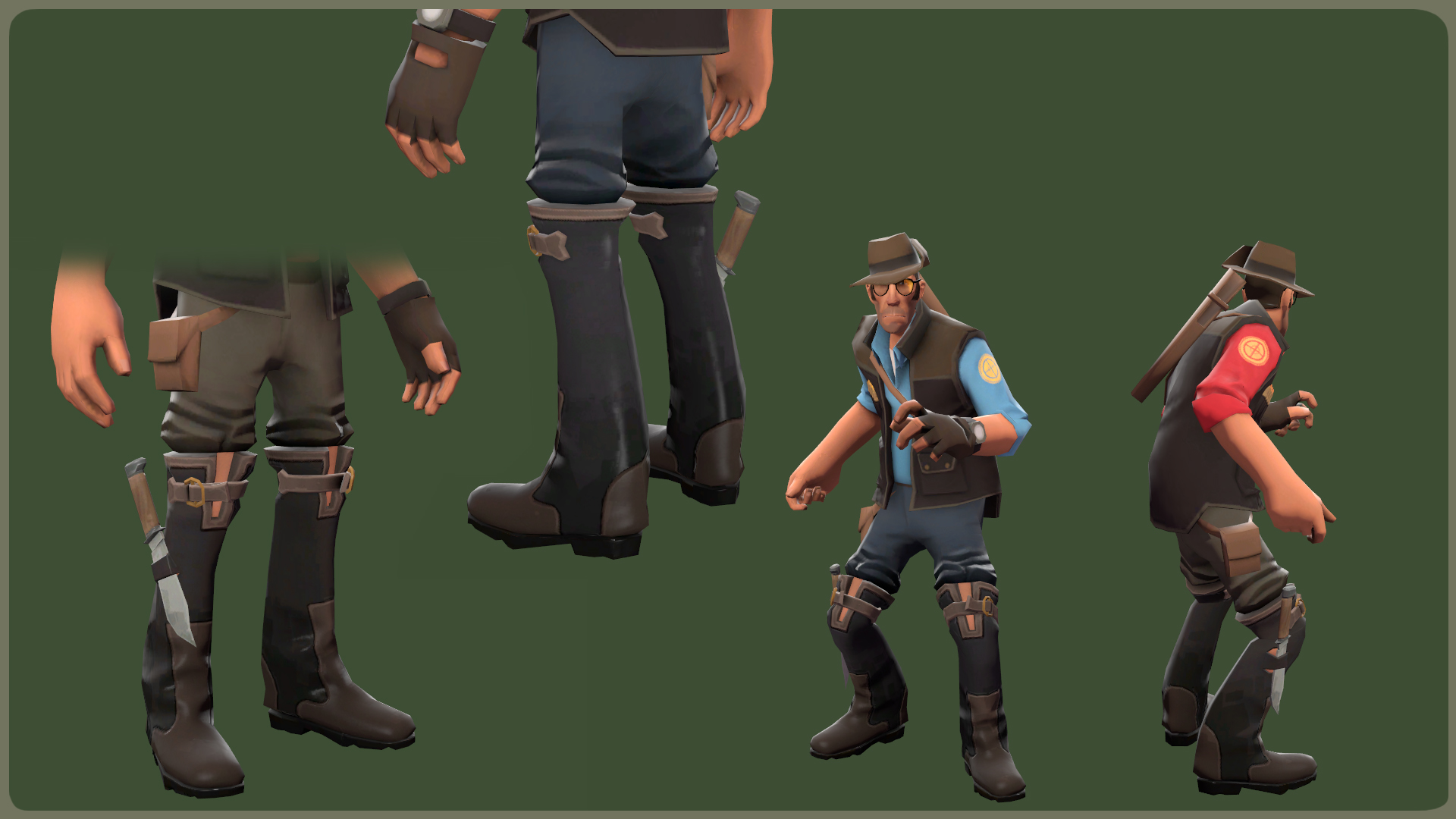 Let's move on to the weapons and cosmetics next. If you're looking for boots, we've got some of those! Check out the
Squeaky Swampers
by Pixenal (shown left!), or the
The Slippery Slippers
form the talented nuggetboi.
We'll get the hats out of the way next, since that's what you're all here for anyways. Up first is the double whammy of food-themed hats, the
Jelly Doe-nut
by Void, and the
PPPAP
by RIKUSYO. Great work you two, I'm still having nightmares!
For some more standard hats, check out NeoDement's magical
Runic Robes
, Gigazelle's
Clipper's Tricorne,
or
The Keanu Weave
by Barno, SediSocks, and Majora. No, you're breathtaking!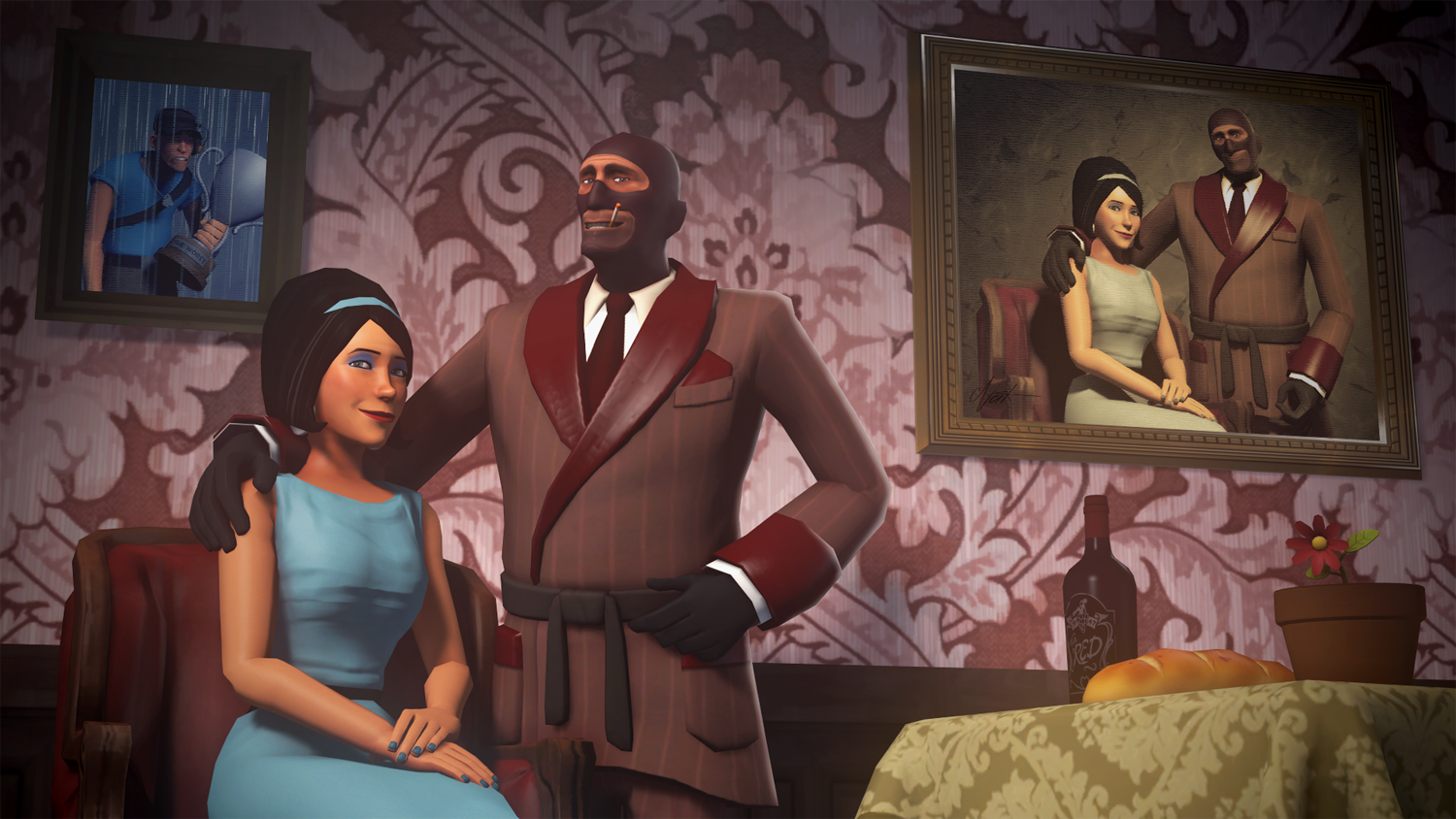 If you're more of the French persuasion, we've got some cosmetics for you! Check out the
Hatellite
by Ducksink and Square, the
Phantom of the Battlements
by Flipy, or get comfy with the
Smoking Gunman
(shown right) by Big Bob, Tabby, and Hotrod McCoolguy!
We've got one weapon model worth showcasing this time around, and it's
The Scouting Scoundrel
from Petachepas and Vipes. Great work!
Next we have two cosmetics that I totally didn't put together just because they sound funny together, the
Summer Shorts
by JZeeba and Tabby, and
The Packin' Meat
by Pie_Savvy, Patrezak, and DJB2401!
And finally, we have the ultimate crossover event with
The 2Fort Knight
by staff member Diva Dan. Please direct all complaints
towards him
.
Warpaints/Unusual Effects
​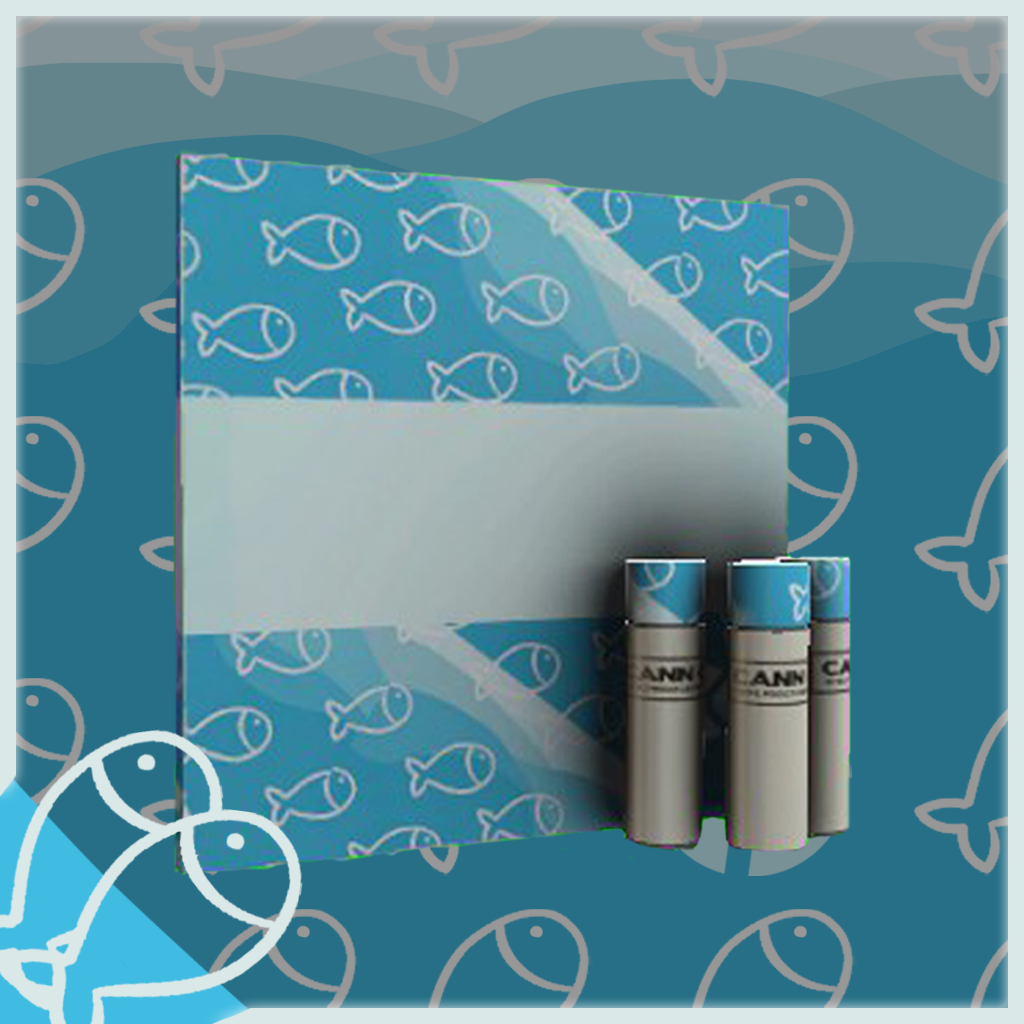 We've got some warpaints for you as well, and a lot of them are distinctly tropical in theme! We've got
Fish Tank
by Aeprl (shown right),
Pineapple Appetite
by Firebirdjr, and
Stripped Shell
saph to help get you into that tropical mood.
If you're looking for something a
less
tropical, Overlord Lettuce has you covered with their warpaint,
Engraved Danger.
We got a few unusual effects as well, of note are
Broken Affection
Cheesypuff, MarkUnread, Muhai, and Grambee and
Bloodpool
Rytu.
My personal favorite, however, is the
Ray Of Sunshine
by medadon, which is based off of our charity medal! Super neat!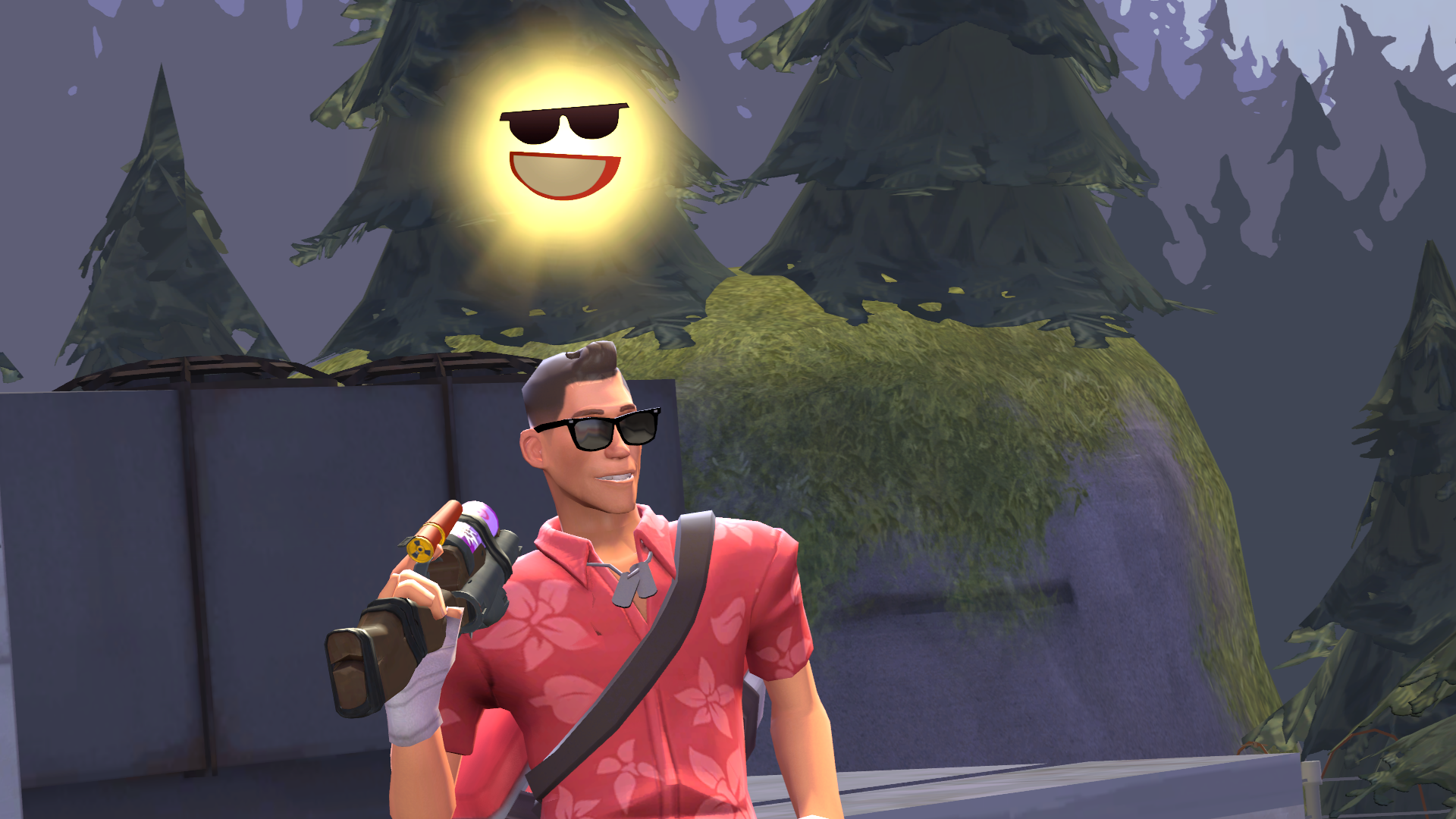 Now for some models and props that aren't cosmetics and hats!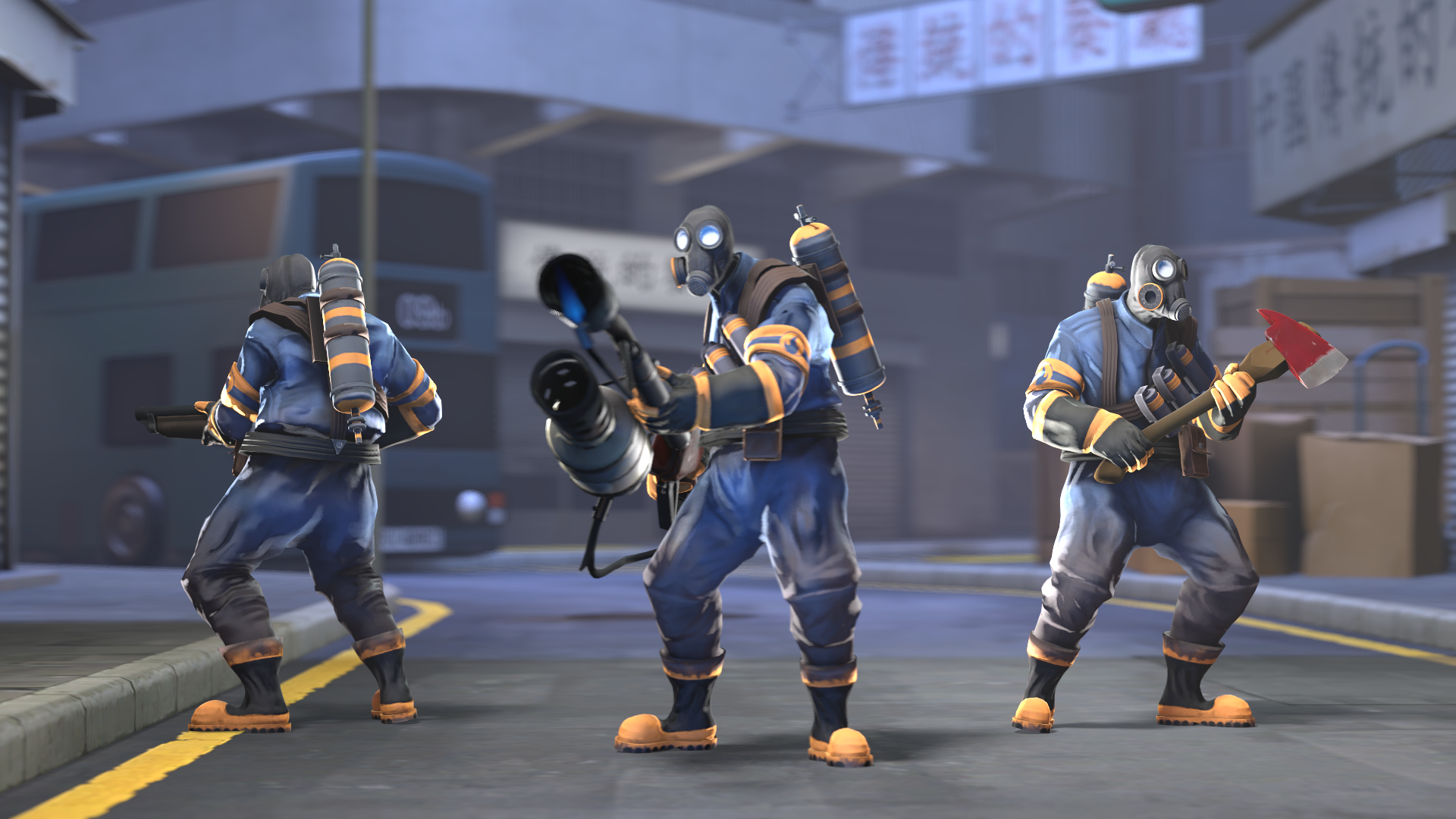 This time we had two entire reworks of existing player models. First is the
Pyro remake
(shown left) from BiedroN, and second is the
Concept Art Scout
by Alaxe and Uberchain. These are both incredible, and you should check them out!
We got some vehicles this time around as well; a
Golf Cart
by FGD5, and Train Crane (technically a
Derrick Train
) by Asd417.
If computers are more your thing, check out the
Mainframe Console
by DrSquishy, or the
computer_low_drive
by AsG_Alligator.
Finally, we have the
Medic Coffee Cup
by I'm gonna snake that ass. I'm not going to comment on this one, I think it speaks for itself.
​
Up next let's take a look at the mercs in creative roles! First, we have some Engies doing some
Mini-Mapping
with Micnax (shown below), and then Scout tries his hand at painting in [GCS] Bogdan Gray's
Draw me
! And finally, we've got the mercs participating in a theatrical production in
American Mercenaries
by PootisGodAnimations.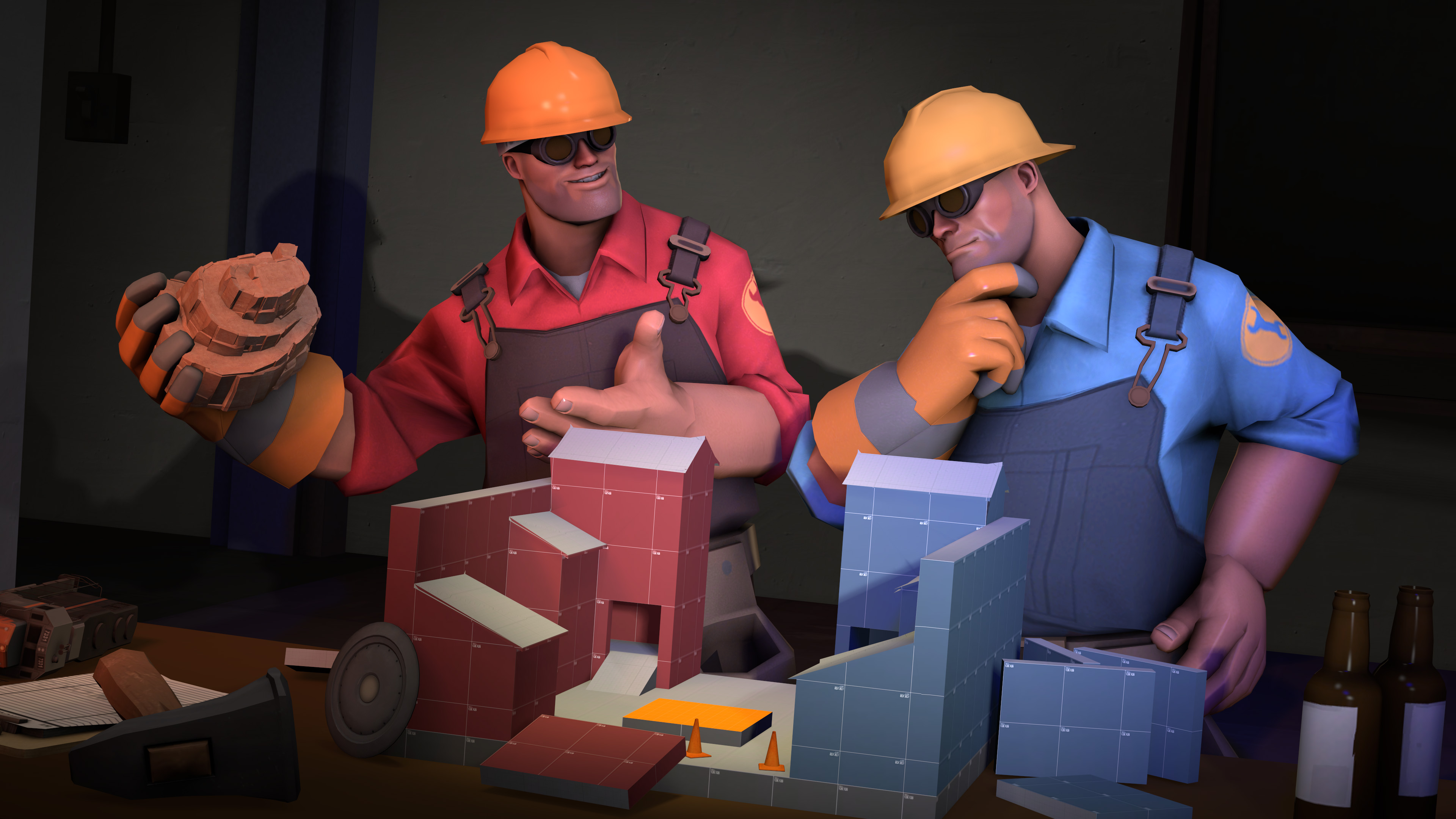 If you want some more action, have a look at MiragH's
Persian Marauder
, Ansanie's
The Attack of the Dead Men
, or the excellent
The 72h Summer Jam SFM Poster
Vulgar Jack-Priest.
For some more styleized renders, check out
The Crate Depression
by DUCKY 2,
Doctor for the 72 Hour Jam 2019
by ▲Daddy Leo, or
Sunrise in Pyroland
by R3DCyclops.
Also be sure to check out
Feels like Summer
by Cinna and
Cave Elevator
PrivateerMan!
What's this? A challenger is approaching in
Scout Bats the Home Run
by NotSoHoriz! Be sure to check out the updates tab on this one, there's a Hightower smash stage in there too!
And finally my personal favorite SFM artwork this time around,
In A Jam
by The Scurvy Orange!
Animation, Video, and Audio
​
We got some neat things in the Audio/Video department this time around as well! Up first are our animated SFM creations.
Ronald_D_D returns again this year to grace us with Nathan Vetterlein's sweet Scout voice in
The Scout: !@#$%es LOVE Cannons!
Following that, WingDing infected our hearts with
Virus Doctor.
In the realm of non-SFM videos, there's two we'd like to highlight. First is Delfy's
Double Penetration
, and second is the wonderfully animated
Scout's Ice Cream
from Sgt. Pinecone. Be sure to give this one a watch, it's quite the animation!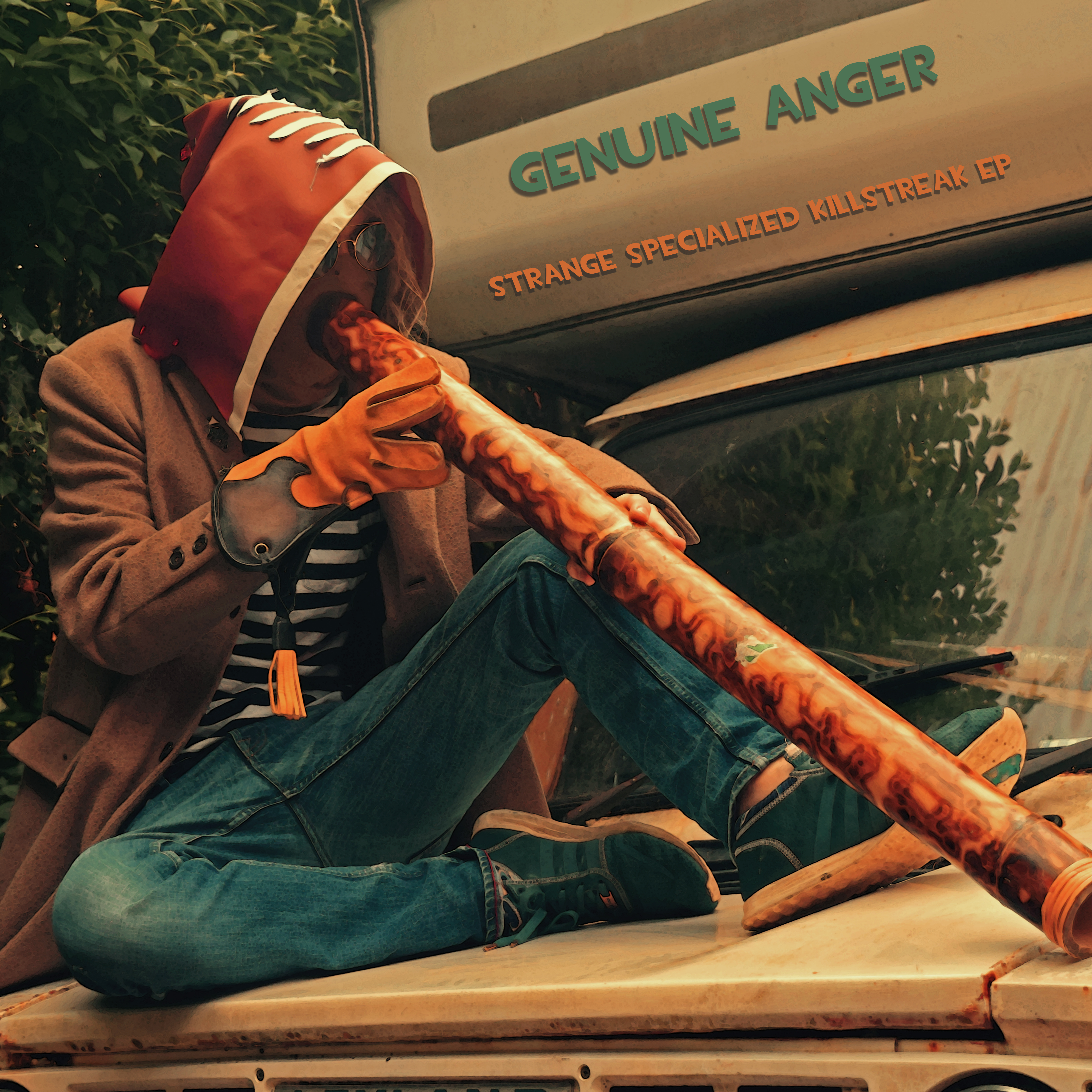 And in the music department we got two EPs this year:
Heavy's Karaoke Night - 3 Track EP
by Mikroscopic, and the live-band
production,
Genuine Anger - Specialized Killstreak EP
by Badger_, B0 Jangles, and Kelan Moore (the cover art is shown above). Great work, all of you!
Maps and Other TF2 Assets
​
I've stalled long enough, it's time to talk about the maps this year!
Up first is a trip to the moon with Sandwhip's CTF map
Theia.
Then we'll head back down to earth and visit some steep hills and bunkers in Luther's
koth_steephill
and Skelly Odin's
koth_barrenbunker.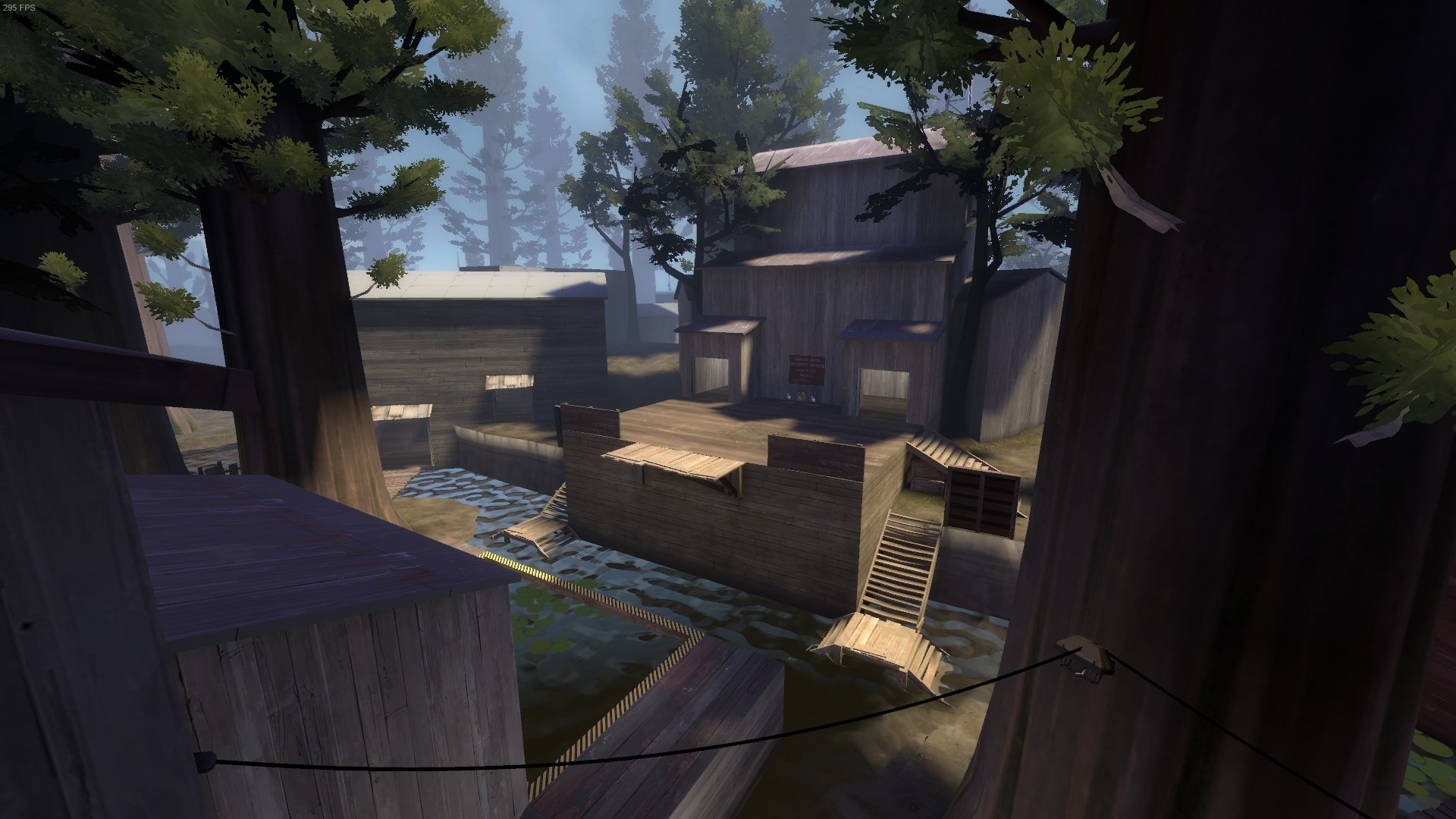 We got a lot of Player Destruction maps this year, each taking a unique approach to the mode.
Deliver gifts from your fallen companions to purgatory to appease the cat lamps in
pumpeak
by pumpko, or go nuclear with FrostHoneyJuice in their nuclear reactor map,
Ignabyl
.
If you're looking for something swampier, check out the dynamic capture zones of 14bit's
Waterlog
, shown right. If you're looking for something a bit drier, visit the raging infurno that is Mr.B3TA's
Engulfed
. The map also fully supports Pyrovision, which I believe is a first for one of our Jam entries!
If you'd rather be destroying robots over players, check out Wilfire's
MvM Warehouse
!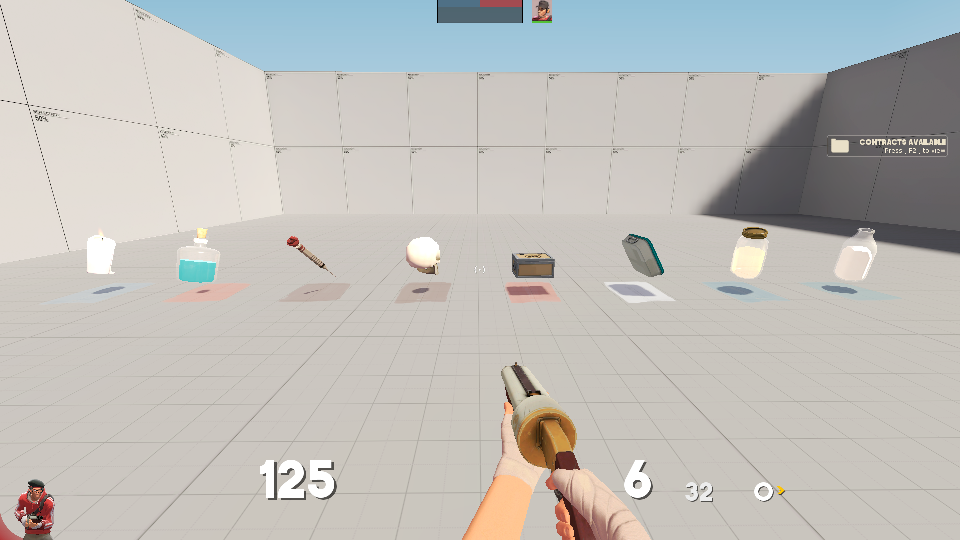 Next up we have two arena maps that were both made in the last two hours of the Jam:
Bigg Outpost
by our staff member Berry, and
Panic
by our server mod Startacker. Great work for such a short timeline, you two!
We've got a few more polished arena maps for you as well. Check out nesman's aptly named
nesmanjam
or Tumbolisu's confusingly-named
Arena 1p32471
. I'm seriously not sure what this means, is it a type of plastic or something? Googling it give no answers. Please help.
To complement health and ammo packs, the extremely talented Yrr gifted us with some
Alternative Pickups
(shown above and left), and showed them off in her map
Hot Garbage
!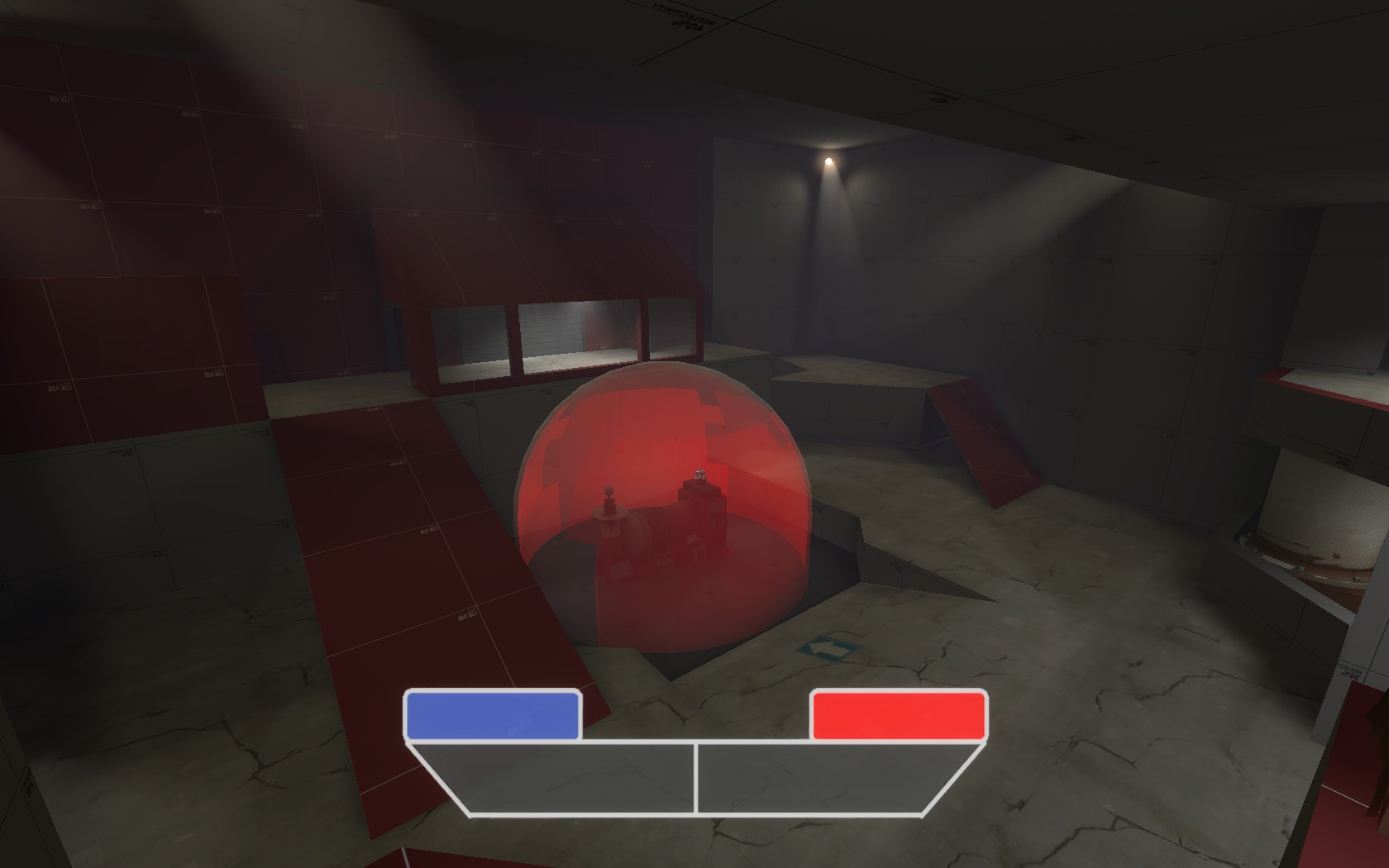 If you're looking for more gimmicks like that, we've got them! MegapiemanPHD, ChargingTurnip, TheFluffyCart, and Boby321 all teamed up to create a brand-new* gamemode in
gd_powerbreak72_a1
, which tasks players with destroying the enemy team's generator. Here's a look at the generator and its shield on the right!
*

This was technically done years ago in gd_rodense, but we don't talk about that one anymore
If you want your gimmicks more explosive, raid the beaches while being bombarded with mortars in
Leviathan
by the talented Xelily.
If you want your gimmicks even crazier, try out BigfootBeto's
KOTH Procedural
(shown below), which randomly reshuffles each round to create a different map every time! Or check out a complete rework of the infamous cp_orange with ⁽ᴵᴰᴳ⁾CaptainRussia94's
Orange Space Plaza Event
, which sends cp_orange into space and adds a healthy dose of crazy to the mix.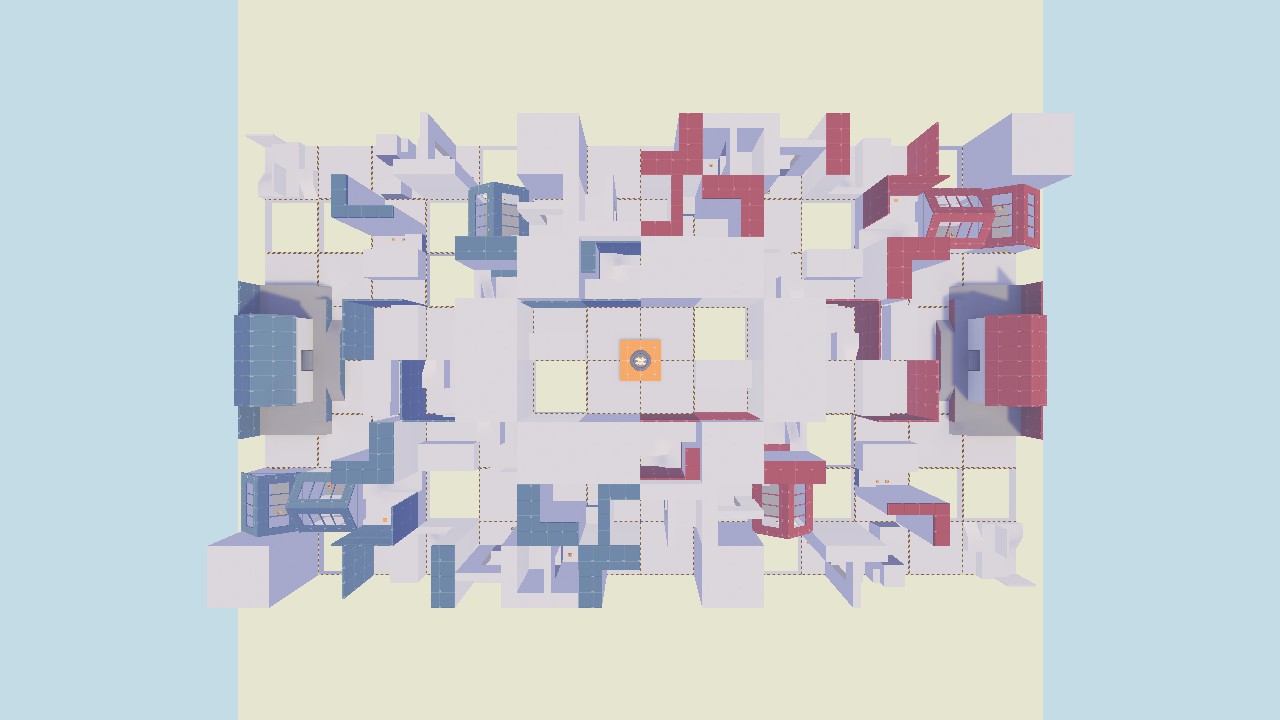 Speaking of reworks of maps you know, check out Khuntza's
tc_ordyh
, a mirrored version of everyone's favorite TC map, Hydro.
And finally, some detail scenes. We'd like to highlight the moody
Silo
by Jeddyk (shown below), and the sunny
Watchtower
by Erk!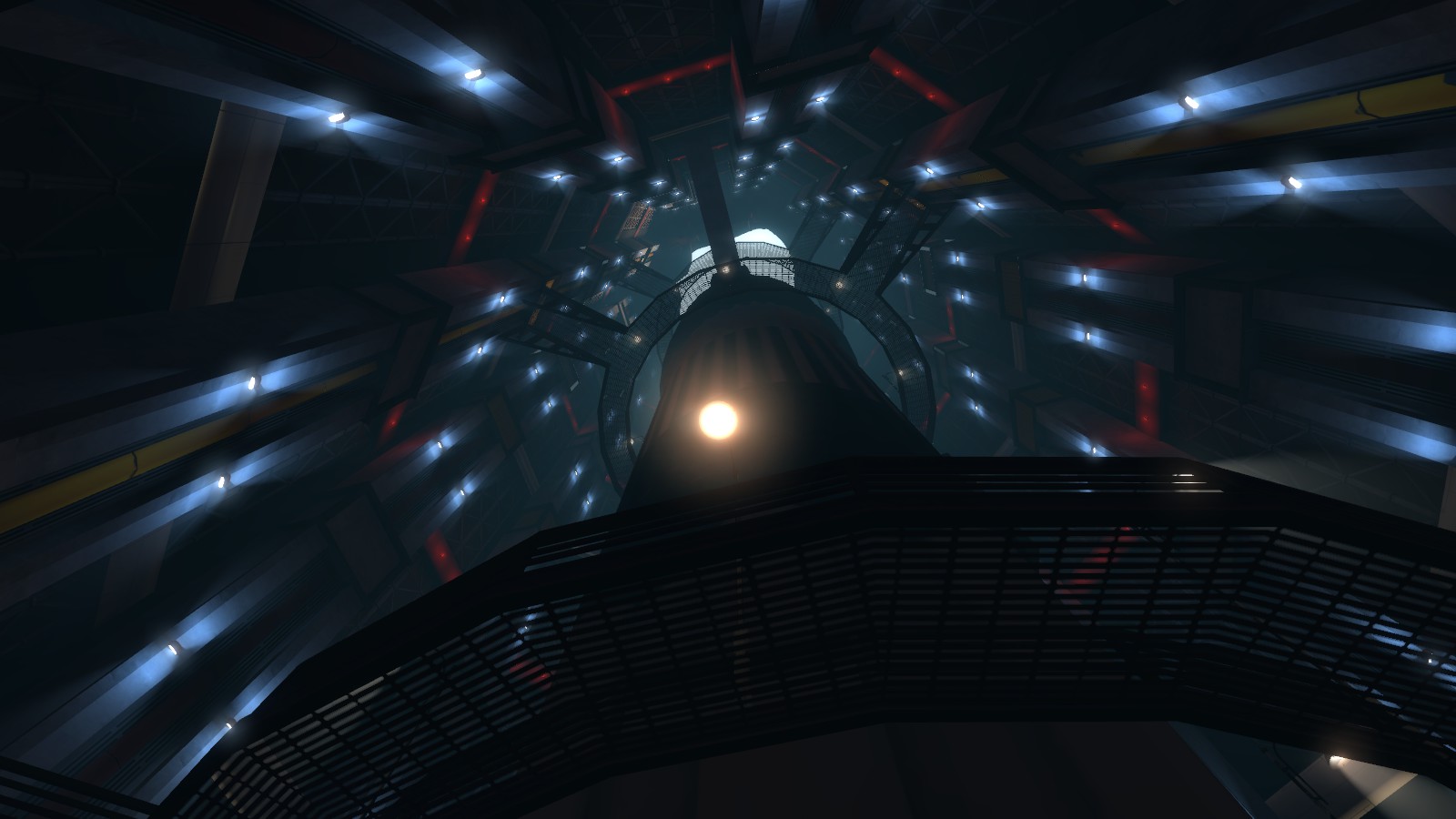 This year we got 3 TF2 fangames as well, and they're all good enough to showcase!
Up first, save the world from the Crate Depression in
Team Fortress Project 2.5 - Penurious Purification
, a bullet hell shooter from Brogrammist and cyclomantis, or relax and throw Scout from his mini scooter to cause the most damage in Kikouille Master's
Scouttasturvat : Moped dismount
!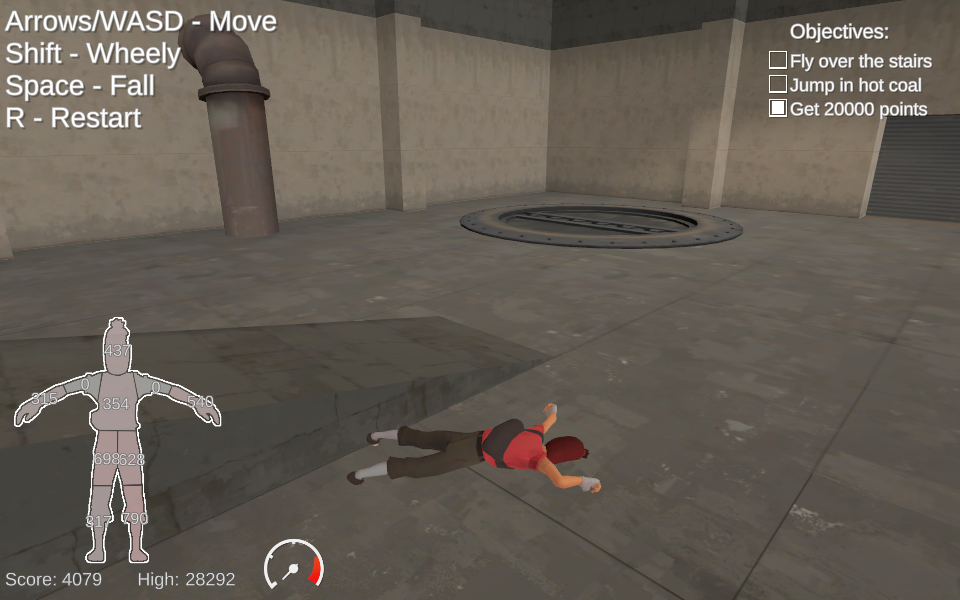 Finally, be sure to check out
ErectAMercs
, a TF2/Pokémon mashup brought to you by hutty, the creator of 2017's Cart Crawlers.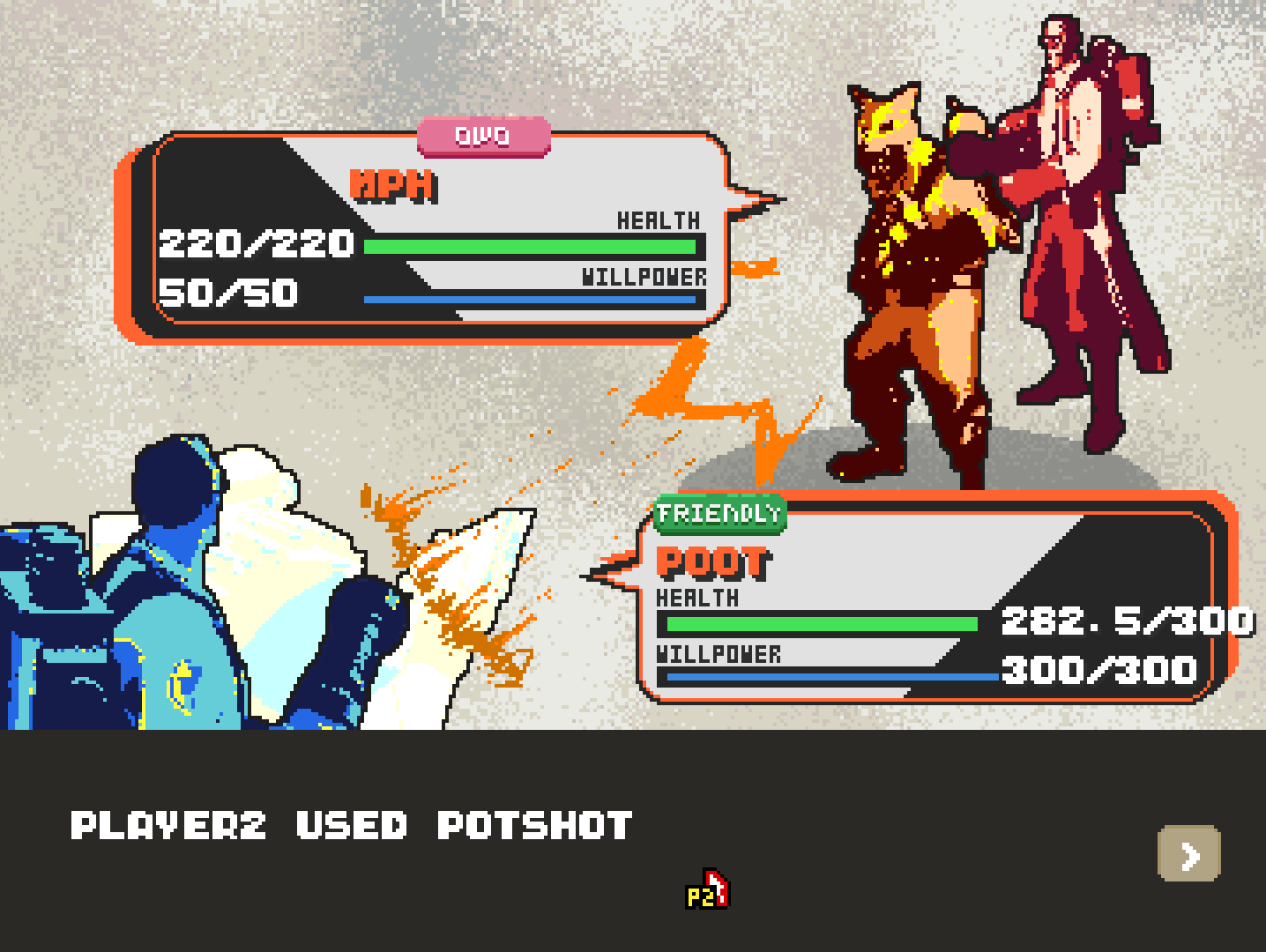 For our final category, we've got some great physical crafts. That's right- TF2 things in the
real world!

First we have some
Origami TF2 logos
by tekt, and some super cute
Needle felt dolls
by AnneSQF. We also have some
Medic and Soldier emblem badges
by medical father, and an incredible
Animated Spycrab
from AxioMr!
We also got two in-game items recreated in real life: the
Philateler Hat
, recreated by Ixy, and an
IRL dispenser
, created by retrolego. Great work, both of you!
And finally, a very special entry from our server mod, Startacker;
The Cow.
Since we passed our $2,000 donation incentive, Startacker will be creating a wooden cutout of the Medic in the same style in the coming days. Stay tuned!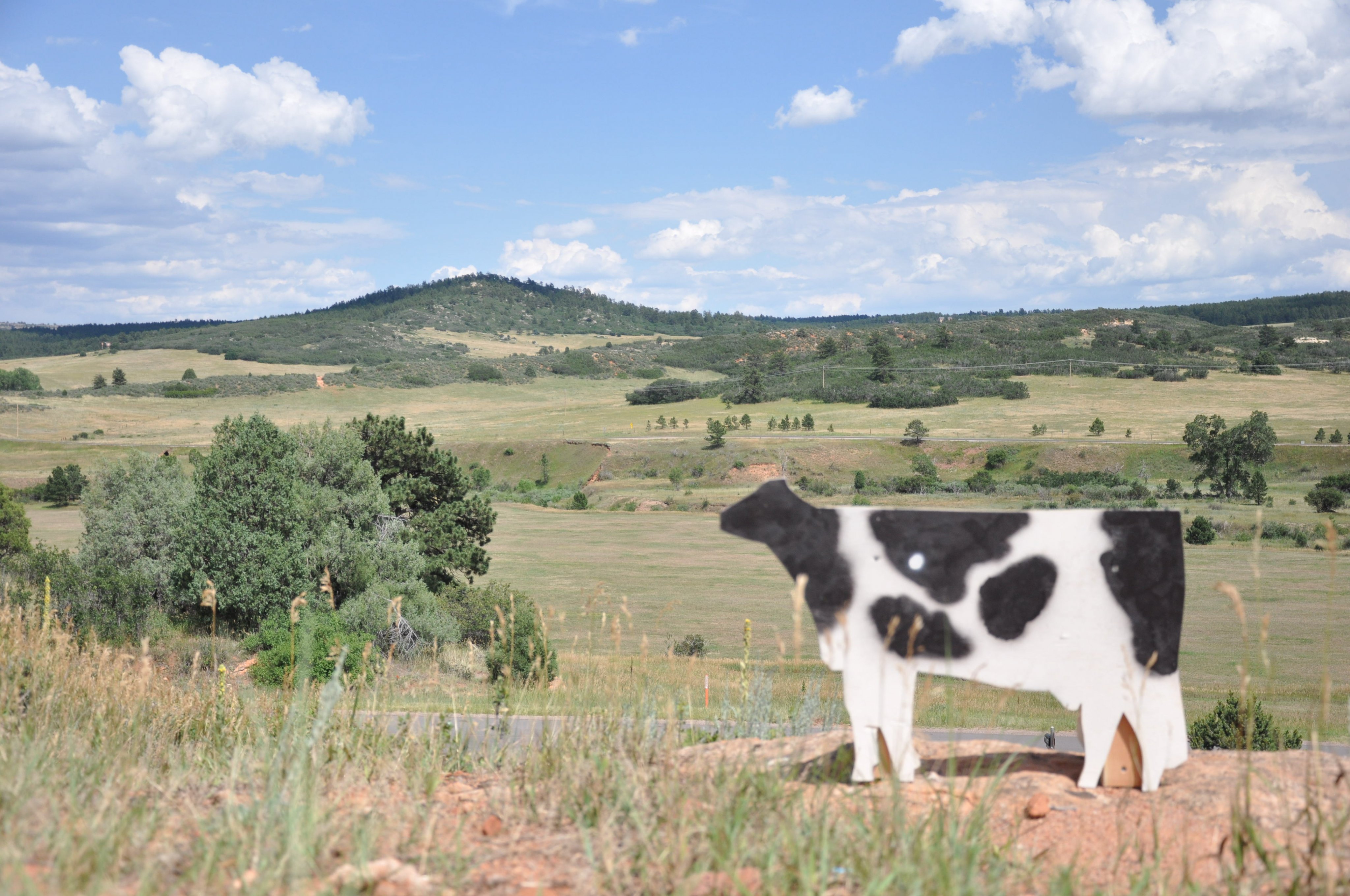 Hungry for more? Be sure to check out all 387 entries by heading on over to the
72hr Jam Entries download category
! We a lot of great stuff that we just couldn't fit into the showcase, so go check it out!
Everyone who participated will receive their medals after the next TF2 update (when the medal gets added to the game!) and all donors to the Trevor Project charity drive will receive their donator medals soon.
Here's an update on donation incentives while we're at it:
Amount | Incentive | Status
$1,000 | Void updates frontline | Done,
get it here
!
$2,000 | Startacker makes a class cutout | Done,
see it here
!
$3,000 | 14bit dyes his hair Red or Blue based on a poll | Done,
see it here
!
$4,000 | UEAKCrash dyes his mohawk pink | Done,
see it here
!
It's always exciting to see what we can do together as a community, and all of us here at TF2maps.net are eagerly looking forward to whatever is next in store! Thank you everyone, be sure to keep a lookout for the next Jam!
If you're been counting, you'll have noticed that were only 99 items in the showcase. That's because we have one more that we couldn't fit anywhere else and thought was neat enough to highlight on its own! Presenting Meet the Engineer translated into Kriol (Australian Creole) by [NGPU] Revetron. See you next jam everyone!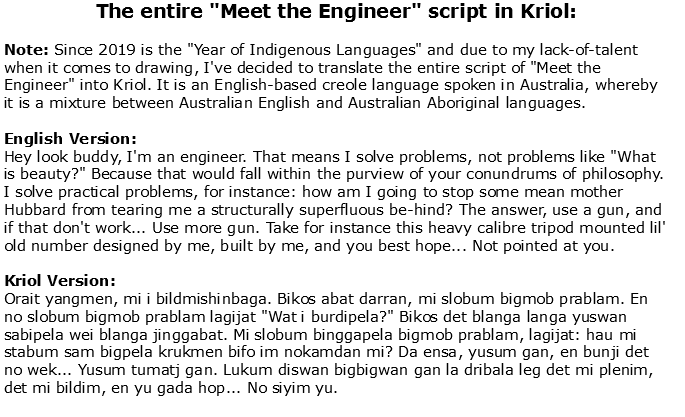 ​
Last edited: