semi-trained quasi-professional
aa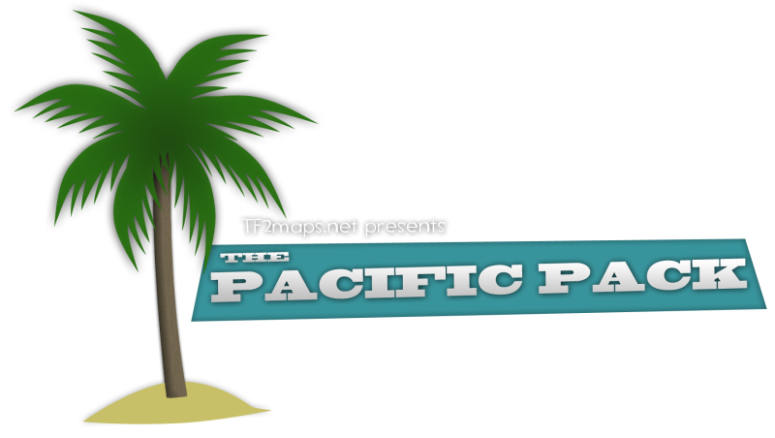 The Pacific Pack​
Yes! It's true. TF2maps is planning on a new pack, themed around Henke's excellent "island" pack idea.
Are you excited? Don't answer that, of course you are. We'll be starting work on a set of island maps over the summer, and we're doing things sligthly differently to how you were expecting.
To start, a few of us -Aly, EArkham, Fr0z3n, Schwa and myself- will be working together to make several close-themed maps. Now, put down your pitch-forks, this is to ensure that no matter what happens, there will be a group of dedicated of mappers and modelers to make this pack a reality. We chose to do it this way because it will make sure that the pack is as uniform in theme and quality as possible. PUT BACK THAT PITCHFORK, I'M NOT DONE YET!
We aren't closing you out!
That'd be more stupid than jumping into shark infested waters! Everyone is welcomed and encouraged to contribute maps, models, textures, for consideration into the pack! Keep in the mind though, the goal is to have the highest quality, uniform map pack that we can. If you are *serious* in contributing to the map pack, talk to us! We'll get you the stuff that you need! (More info, see below)
Us in the cabal are planning to blog the process and be as open as possible. This includes things like reference documents and style guides- though these will come later.
FAQ
What theme is it?
Island. Each of the planned core maps will have a slightly different take on the theme. For example we have an island resort, jungle ruins, volcano base and maybe even pirate ports pirate-ports. If you're still stuck, think "The Incredibles." Palms, coconuts, sand. Monorails through treetops. Waterfalls. Rocket silos in volcanoes. Pirate Rocket silo's in a volcanic volcanofall- Oh, little too much there. Sorry, but I'm sure you get the idea.
What will the core maps be?
A mann vs machine map, a payload map, an a/d capture points map, and a koth or 5cp map. Themes are incomplete, but "jungle ruins" and "holiday resort" are being considered for two of them.
When will the pack be released?
"When it's done." When the core maps and models are complete, plus anything else we want to include. We don't even want to give an estimate yet.
How can I contribute?
Firstly, by making maps. We're expecting to be able to add a few other maps to the pack, and we definitely don't want you to think that just because you're not in the core doesn't mean that you can't contribute a map.
Secondly, we'll be looking for plenty of models to help the theme stand out and of course we'll be looking to tf2m to help make these.
We'll have a list of props we want soon, and if you have cool ideas for other props i'm sure we can fit them in. (So check back!)
We also want to including some hats or equippables, so feel free to make some of them. They can be whatever fits the "Island Pacific Theme." Hula skirt for the pyro, a tiki mask for the spy, a coconut grenade launcher for the Demo.
Later on there'll also be things like making a SFM trailer, a website, and so on. We're hoping to get as much of that done within the TF2M community as possible.
How will you decide what goes in the final pack?
Basically, the best. To clarify what we mean by that, we'll be taking top-quality maps and models.
We want to keep a coherent theme, so matching the core maps will help. Style guides and such will be posted as maps approach beta. We're wanting new maps, either just started from scratch, or still very early in development. Do not revive old maps. Maps added will need to be of highest "It's basically the best I can do," complete quality.
Final decisions about how we pick who/what is included in the final pack will be made announced nearer to the time when we will be making decisions. We'll keep you posted, so check back! We don't have a deadline yet, so manage your time wisely!
Something to note is that bandwidth is one of the main constraints on the map pack, so it can't be too big. That means that there will be tough decisions to be made.
What should I do if I want to contribute?
Whatever. Free country, man. I would appreciate a forum PM from everybody who wants to contribute, so I can have a reasonably definite list. Just because you aren't on this list doesn't mean you aren't involved, of course. We want to keep this as open as possible.
What maps can I make? Can I make two maps? Can I-
This isn't a contest. There aren't any hard and fast rules, except the theme. We want your best work. You think your VSH Medieval underseas zero-gravity map will be up there with the best of tf2m, who are we to stop you?
Can you include my old map?
Probably not. If your map: is more than two months old, is already in beta, has been publicized outside tf2m (including being in one of our official contests) or has been significantly playtested outside tf2m, then we're sorry but we're not interested right now.
I need Resources!
For starters, here's more than 200 reference images.
More resources will be added here as maps start to go beta.
I have another question, or a complaint.
Post it in the thread, or send it to me by PM or steam.
Last edited: