The Clown Prince of Mapping
aa
new thread:
https://tf2maps.net/threads/pipeball-ultra.46374
so i'm back
I've been gone a long time, and TF2 and mapping for TF2 was nowhere close to being on my mind. When I finally did return, I found that the community landscape had drastically changed. Melee Fort was the pride and joy that I watched grow from a seed to a flower- even if it was less of a flower and more like a persistent weed. I came back to find the garden it grew in to have grown barren and toxic. The funmap scene is by and large dead and buried, and Melee Fort is now dead and buried beside it. Project I-13, my super-secret TC map, has sunk into the earth as well. I guess there's nothing left for me to do but start making real maps.
.... nah. There's just one more thing I wanna do. One last kick at the can. One more thing I just HAVE to do.
If not for Melee Fort, I'm the guy known for Pipeball. Love it or hate it, you'll never forget it. And with Pass Time being introduced, I feel slightly vindicated for all the flak I got over the years from it. Perhaps the funmap scene isn't completely dead. Perhaps it's time to finally right one of my most egregious wrongs.
Remember if you can, the horrendous brainfart that was Super Pipeball, my first attempt at making Pipeball bigger and more complex. A thinking man's Pipeball, if you will. All that ended up sucking ass, so every Pipeball variant since has been based on the original Pipeball map. Making Pipeball bigger, however, has always been a nagging itch in the back of my mind.
Now with Melee Fort and other funmaps fallen to the wayside, the beast rattles its cage again.
For better or worse, it's time I let it loose.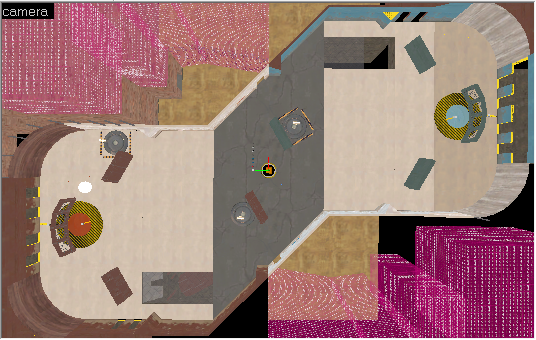 help i broke my rink!
​
Aside from the obvious deviation in shape, this may look like a regular-sized Pipeball rink. Nope!The playing areas are actually much, much wider, and the overall length is a hell of a lot longer. Even longer than Super Pipeball's, and that was looooooooong. It's fuggen HUEG, ok?
Not your average game of Pipeball
​
As you can guess, it's also gotten a hell of a lot more complex, too. Scoreboards? Control Points? Some weird shit under the floor? Ball dispenser on the
ground
? Boy, if you thought you knew Pipeball, you haven't seen anything yet.
And then there was more!
​
Yes, in previous Pipeballs, control point entities were only used to display scores. Now, in Pipeball Ultra, there are ACTUAL control points, and, believe it or not, they do serve a significant purpose. Now of course the object of the game is still to win by sinking the ball in the enemy's goal pipe, but capturing and losing those points will greatly affect the tide of the game. How? Pffft, like I'm telling you now. You'll have to wait until I've built more.
Last edited: