WANT ME TO BE REAL? MAKE ME.
aa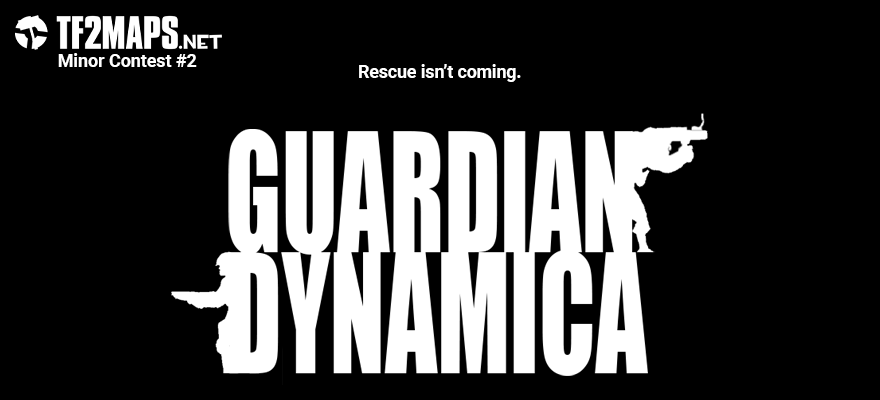 Banner by Startacker

​
I'm gonna be real with you, this is going to be one of the most experimental and complex contests we've ever run. Still being real with you, I'm going to love
every moment of it.

You have a little over a month and a half to make and submit a (preferably early beta) map made for the Guardian gamemode. We're also looking for you to introduce a dynamic element to your map, which we'll go over what that looks like now.
Guardian? Dynamic?
Guardian is a custom gamemode that exists as an off-shoot of Mann vs Machine. It's designed around two players, and map sizes are usually smaller than usual. Need a visual example? Check out
Trust
. In short though: 2-player MvM!
Dynamic elements for this contest should play a notable role in your map. Some examples include the robots using an elevator to progress, opening or closing routes based on progress, firing lasers, etc.
Not sure how to accomplish that? Don't worry! In this post we've also provided an example VMF that includes relays that are triggered by the wave starts in our provided MvM missions! This means you can easily cause unique events to happen on specific waves, and you don't even have to make your own mission.
Note that the pre-made missions are designed to work with bots that don't use a bomb, making a standard invade-style or another custom objective map may require you to modify the missions or make your own.
Rules
Your map must be for the Guardian gamemode. Standard MvM is not permitted! You can have any objective, including reversing the roles of the defenders and robots. Want to make the co-op map you've dreamed of? This is your time.
Make sure you provide everything that's needed for your map to function! The .bsp, .nav, and any population files you're including must be provided with your download! You aren't required to make your own mission, and can just choose one from our selection of pre-made missions.
Maps must not have been started before this announcement. We don't anticipate anyone having made a map for this beforehand, so this shouldn't be an issue.
Maps must be uploaded to the submission thread before the soft deadline. The submission thread will open a week before the soft deadline and will close at the hard deadline. More details on deadlines below.
Your map must be fully functional; meaning it includes objectives, spawn points, is fully lit and the defenders can reasonably win.
Everyone can enter (other than those banned from entering contests), though judges, contest organizers, and those otherwise involved directly in judging cannot win any prizes or place in the top 3.
Limit two entries per person.

This is for contributing to a map through Hammer. You may contribute to more than two maps with regards to custom content.

Maps must be able to be run on any server without the use of external plugins.
Custom Content
Each map can have a team of four collaborators. A collaborator is someone who has contributed to the map either via work in Hammer, or through the contribution of custom assets.
People are only considered asset contributors if their custom content has not been released to the public within two weeks of the contest start.
Deadline
The contest begins as of this post.
The contest soft deadline is on January 12th, 2021 at 23:59 UTC

That's about one and a half months. Work quickly!

An upload thread will be made around a week before the deadline.
There is a 48 hour grace period after the soft deadline where you can fix bugs, afterwards, no more updates will be accepted.

If you discover a bug with your final submitted version, you have the option of reverting to an older version of the map, provided that it is already uploaded to TF2Maps.net and/or our game servers.
Scoring
Maps will be scored based on gameplay, utilization of dynamic elements, and detailing. Detailing is light this time around, as we're looking for at least early beta. If you can sell us on a theme rather than a graybox, that's good!
Missions that are made by the user, or are gameplay modified off of the original prefab missions, will be judged in the same gameplay category as the map. This can either improve your score or harm your score based on its balance. Maps that just have the prefab missions do not apply to this.
Final scores will be a combination of official judge votes and public votes. More details on how it will work when the time comes for it.
Prizes
1st place will get a Mapper's Medallion. The top three will get a pick from our prize pool of game keys.
Resources
Guardian Dynamica Contest Prefab:
https://tf2maps.net/downloads/guardian-gamemode-prefab.9715/
Pre-made Missions, designed by Startacker and Crinitus:
https://tf2maps.net/downloads/guardian-dynamica-prefab-missions.10612/
Full MvM Prefab:
https://tf2maps.net/downloads/mvm-gamemode-prefab.7728/
Engineer Nest Prefab:
https://tf2maps.net/downloads/mvm-engineer-robot-nest-prefab.7727/
Navigation Mesh Commands:
https://developer.valvesoftware.com/wiki/Navigation_Mesh_Commands
MvM Technical Guide by Sntr:
https://tf2maps.net/threads/mvm-101-the-how-to-do-for-your-robot-war.33167/
Last edited: