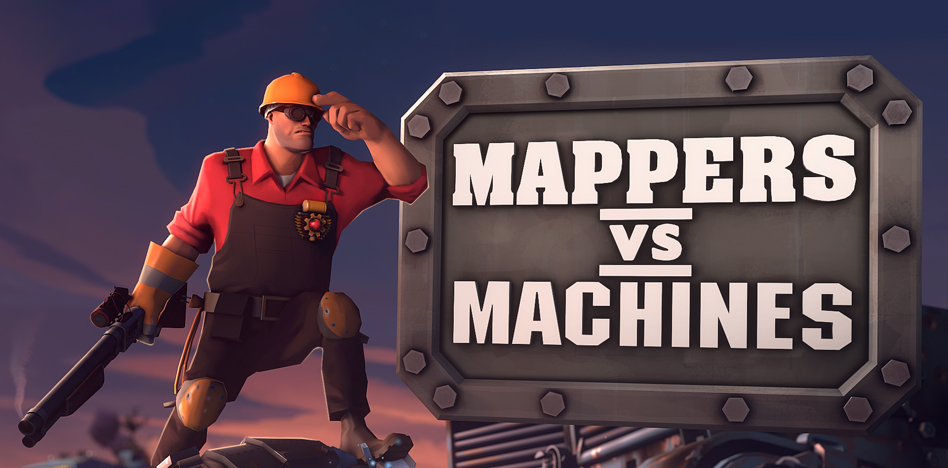 Thanks to SedimentarySocks for the SFM poster!
​
Purpose:
This is a formal way for all of us to get together and play all the
Mappers vs Machines
contest WIP MvM maps and missions. The objective of these games is to give all participating map makers constructive and helpful feedback so they can continue to make progress with their contest submission (both their maps and their waves).
Where:
Potato's MvM Servers
Server Location:
Philadelphia, Pennsylvania, United States
Server ping by region:
20-120 ms for USA
120-200 ms for EU
250-350 ms for AU
Gameday Hosts / Server Admins:
When:
Every single day leading up to the contest deadline (and likely during the judging phase too).
The morning shift starts at 9 AM ET and ends at around 11 AM ET. Preference is given to EU/AU mappers here.
The afternoon shift starts at 3 PM ET and ends whenever. Preference is given to US/EU mappers here. This gameday normally doesn't run unless we are severely behind in testing.
The night shift starts at 10 PM ET and ends whenever (usually 1 AM ET). Preference is given to US/AU mappers here.
If there are no maps on the testing queue then the gameday session will be skipped until the testing queue fills up again.
All times are to +/- 30 minutes accuracy. (e.g. morning shift can start anytime between 8:30 and 9:30 AM ET, etc)
Maps List:
WIP contest maps posted
here
. We do have a priority testing system in place that
roughly
(not strictly) follows this order:
Mappers that join the gameday will have the highest priority in having their map tested.
Maps posted in this thread will be considered second in priority.
Maps posted here will be added to the queue even if they are not mentioned in the steam group chatrooms or in this thread. I will check this page every now and then and update the queue when maps are updated.
Please
do NOT use
the TF2Maps chat bot (VBot) for MvM maps since it is reserved for the usual TF2Maps Imps and gameday operations.
Submission Rules:
Your map must be versioned (e.g. mvm_mapname_a4). You may not submit a map of the same file name again to the server. Your map also must begin with the mvm_ prefix or else the server will not accept it.
Do not pack your nav and pop files into the bsp. If the server crashes on map load your map will be excluded. For easy handling on both your side and the server admin's side, upload a single zip file containing all the files.
Supply a functional pop file with your map. It can be a Valve pop file renamed to your map but ensure it plays start to finish. In particular, make sure tanks work.
If you edited your nav file, make sure you run nav_analyze on your nav mesh before submitting your map files.
Failure to follow these rules may result in your map test being prematurely aborted or skipped from testing.
Gameday rules:
Despite the games running on a non-TF2Maps server, the official TF2Maps.net rules apply to all these games. Violation of these rules may result in being dismissed from the server for the remainder of that gameday. Repeated infractions may result in a permanent ban from participating in future gamedays. Behave as you would on a TF2Maps server.
Each map is limited to 1 hour of game time. After this time elapses, the decision to continue playing the map is up to the people on the server.
If a map has two missions to be tested, each mission will be tested on separate days.
Non-required missions (e.g. an advanced + expert mode mission) will not be tested as devoting testing them to them is unfair to the participants that have required files that need testing. Only the required missions will be tested during these gamedays.
The host/admins reserve the right to enforce their own gameday rules. (For example, if normal mode is being tested and the host demands trash gear, bringing loadouts suitable for adv/expert mode infringes that rule.)
Notes:
PLEASE repack your map to save people time when they download your map.
PLEASE do brief and basic testing of your map before submitting it to the gameday. Use sv_pure 2 to check that all custom assets are packed. Make sure your pop files do not have any missing icons on the HUD. Check your console for any errors (such as missing nav_analyze, pop file errors, etc) when loading the map and pop files and correct all of them.
Try to join us when we play your map (even if it means sitting in spectator) as seeing your map being played real-time can give you much more useful feedback.
If the map download fails while joining the server, try connecting again. (This should be fixed very soon, I hope!)
You can find demo files and feedback data here.
Directions:
Create a download page for your map on TF2Maps and post your map in here. Upload a zip file containing the bsp, nav, pop, and any custom class icon files to your map page. (Note: The server will not accept other file types, including .res files.)
Post in this thread if you want your map tested so we can prioritize it. Follow the post format below. We will be using this single thread for all tests leading up to the contest deadline.
Join the server steam group for any events that may go out related to map testing.
Submission format:
Map name: (name of your map)
Map download link: (link to your map for download)
Steam profile link: (optional - if you provide this, we can give you uploading rights to the server)
Mission to be tested: (If you have 2 pop files, specify which one you want to test, or specify if you want to test both. If you have only 1 pop file, this section can be omitted.)
Preferred day: (optional)
Notes: (anything else you want to say...)
Closing:
Questions or comments about the gamedays? Feel free to ask in this thread in addition to submitting your map for testing. For questions related to the contest itself, ask in the
contest thread
. For questions related to fixing issues with your map, it's best to make your own thread.
Thanks and hope to see you there!
Last edited: