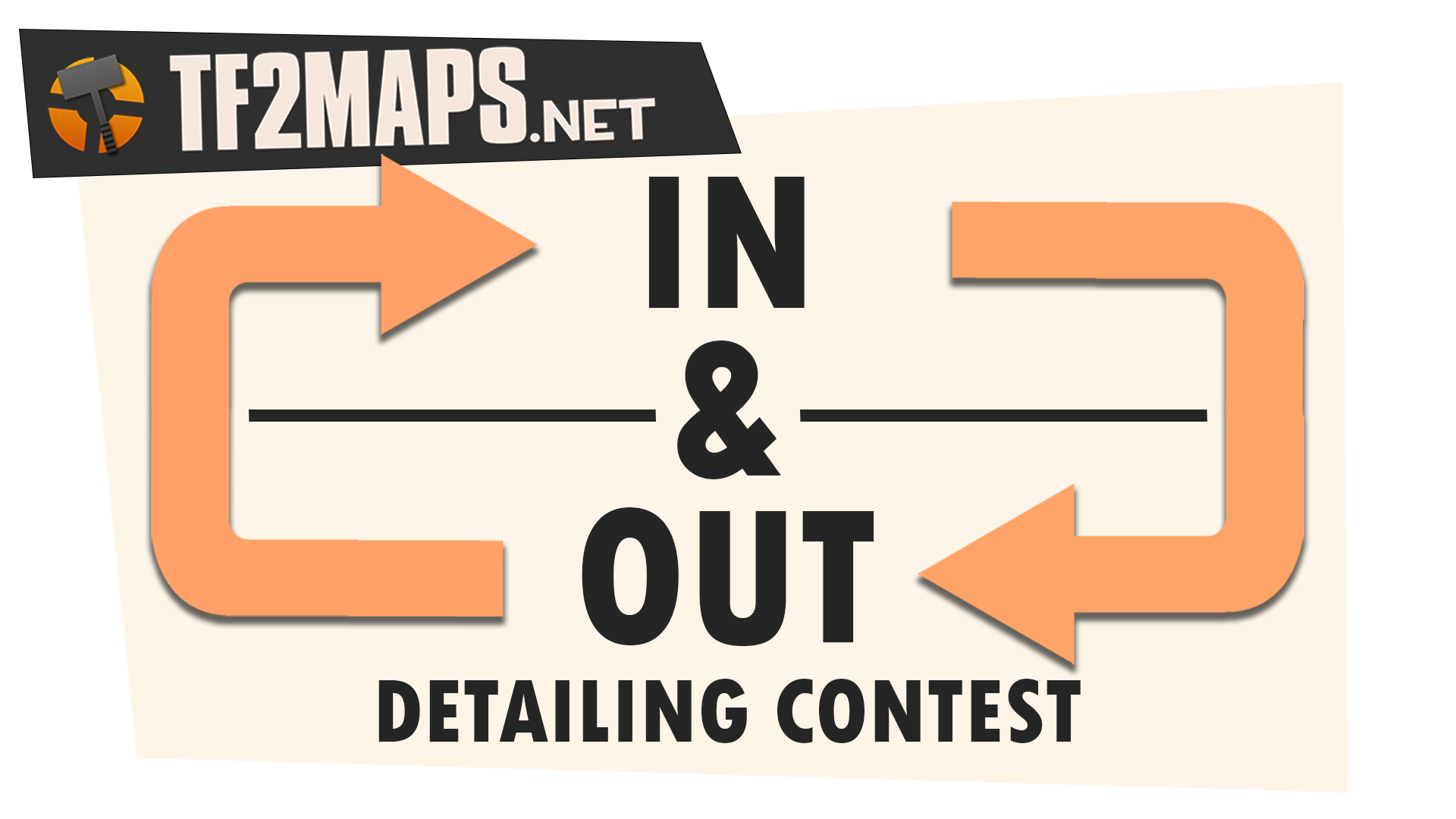 Rules and Information
|
Upload Thread
|
Voting
|
Results
​
Rules:
4096x4096 size. No height limit. This size limit only includes the areas players can access as well as any 'out of bounds' areas.
3D skybox is allowed.
Custom content is allowed as long as it fits one or both of the following criteria: It is made entirely by yourself, or available for public download prior to the start of the contest.
Collaborations are not allowed.
Maximum of two entries per person.
Your map must be TF2 styled.

Your map must be playable in TF2.
Your submission MUST follow this naming convention: inandout_<forum name>.bsp (If your forum name is absurdly long, please abbreviate where you can)

If you submit two entries, add a _2 to your second entry.

Everything must be finished and submitted in the upload thread before the deadline! Prior to the deadline, you are allowed to submit any time within that period, and update your entry as many times as necessary before the deadline.
If you're confused as to whether the indoor/outdoor space of your map qualifies, remember that the idea is to go with the spirit of the theme, if you have to ask, it probably doesn't qualify.
Deadline:
The deadline is
8:00AM 13th September 2021 GMT+0

Please see below for local time

PST -- 1:00 AM, 13th September 2021
MST -- 2:00 AM, 13th September 2021
EST -- 4:00 AM, 13th September 2021
BST -- 9:00 AM, 13th September 2021
CST/SGT/AWST -- 4:00 PM, 13th September 2021
JST/KST -- 5:00 PM, 13th September 2021
AEST -- 6:00 PM, 13th September 2021
NZST -- 6:00 PM, 13th September 2021
Submission Format:
In your submission:
A link to your .bsp in the naming format above. Please compress your map also.
Please make sure ALL content is packed into your BSPs, but please make sure it follows the custom content rules above. I recommend CompilePal or VIDE.
Provide a short description of your map, without a screenshot.
Prizes:
(Prizes available as either Steam or Marketplace.tf Credit)
First place:
$100 USD
Mapper's Medallion
Second place:
$60 USD
Third place:
$40 USD
Last edited: