Old Man Mutant Ninja Turtle
aa
When developing our map's objectives we need to consider 2 variables: Gameplay and narrative.
Contents:
Considering Gameplay:
Local area design.
Visibility.
Distance between objectives/spawn.
Considering Narrative:
Theme and aesthetics.
Considering Gameplay: Local Area Design
Depending on the game mode depends on the choice of geometry surrounding a point of interest (an objective or choke point). Combat will often occur between the spawns/objectives or objective/objective, as players intercept each other in defence/assault of a point. Gameplay here is linear: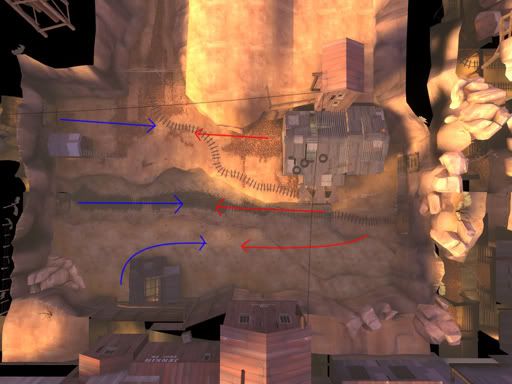 Control Points feature different geometry formations to focus player activity towards them, a focal point of interest; rather than a linear bulwark that forms a destinctive "no-man's land" that attackers seek to overcome to acquire their intended objective. Opportunities to flank occur at varying locations, but usually resolve themselves at the objective in question.
With KoTH and Arena, this gameplay is less linear in that there are plentiful flanking opportunities. The maps are more circular,
completely
revolving around the singular objective.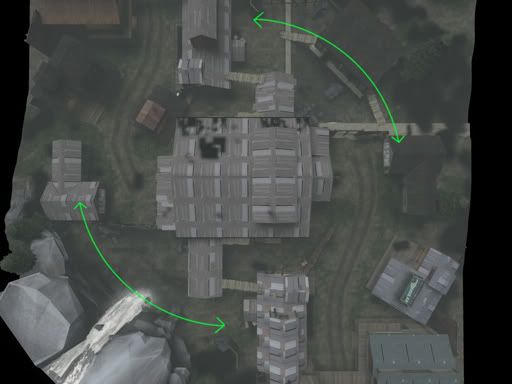 The objective itself needs to have an interesting design so that players enjoy assaulting and defending it (replay value as well). Corners are good as they provide solid cover from which assaults and ambushes can be made, key aspects of TF2 gameplay. So are height variations, almost all classes have certain perks regarding height, especially projectile weapons such as the grenade launcher, sticky launcher and rocket launcher.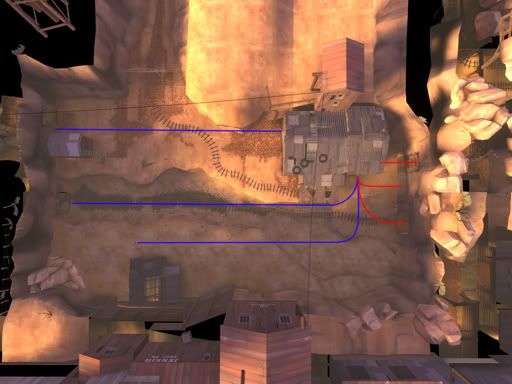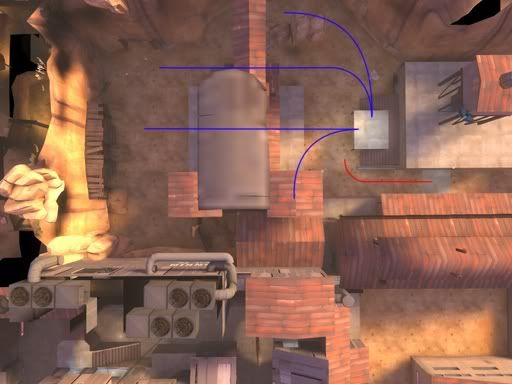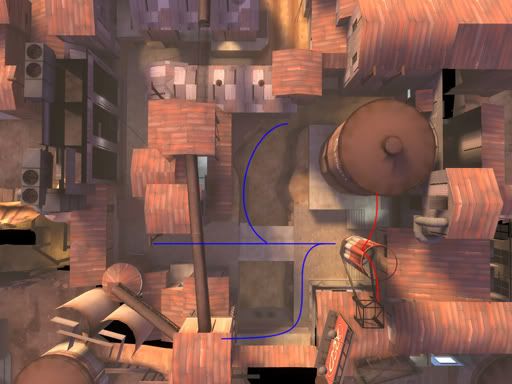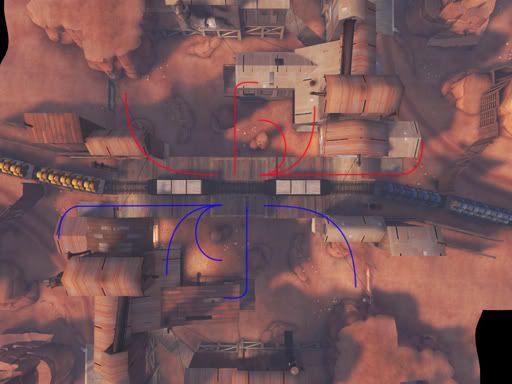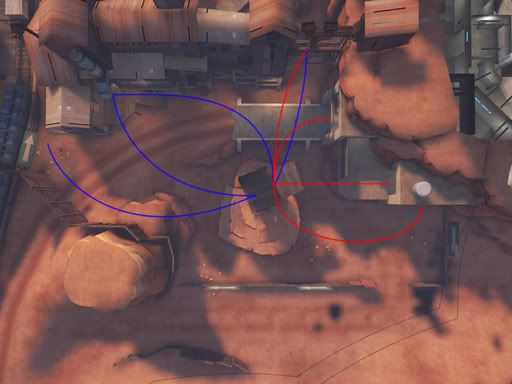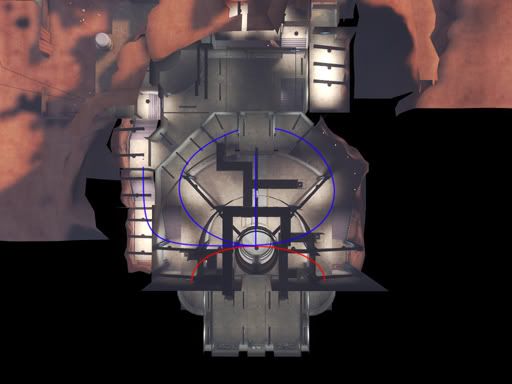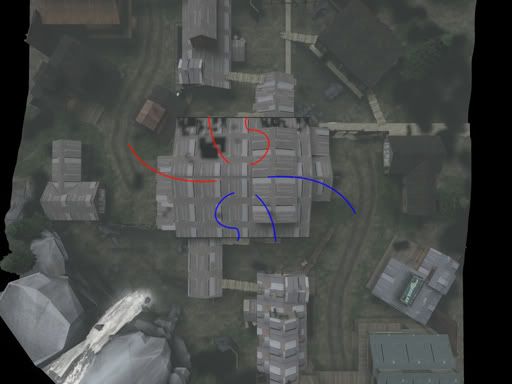 It is important that the objective is not so small that defences don't immediately get overwhelmed by an assault, and that spam cannot clear the point alone. But not so much space that it's nearly impossible to approach the point without having taken considerable damage from medium to long range weapons.
Intermediate areas can be developed at the discretion of the author, but should be wary not to make too many paths that would see the map become cumbersome or too many points of assault to reasonably defend, or even too little that defence is too hard to overcome.
Considering Gameplay: Visibility
Objectives should always be highly visible. Many maps suffer from poor visibility due to erratic cover placement or poor objective designs. In most cases, when a player leaves the safety of immediate cover/spawn/the last objective, they will immediately realise their next 'port of call'. Usually because the CP is visible, or housed within a single structure or area of interest. Throwing too much detail into a map is another way of confusing players and their orientation, as detail work serves as landmarks. A highly detailed area is instantly more attractive and influences a players curiosity, equally detailed areas will less subtly influence a players attention to specific locations. Place a single building in a field and players will investigate, this is the principle at work.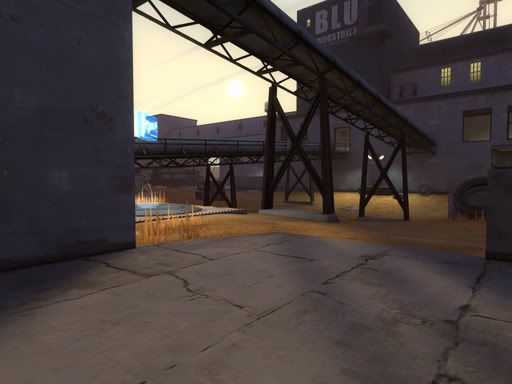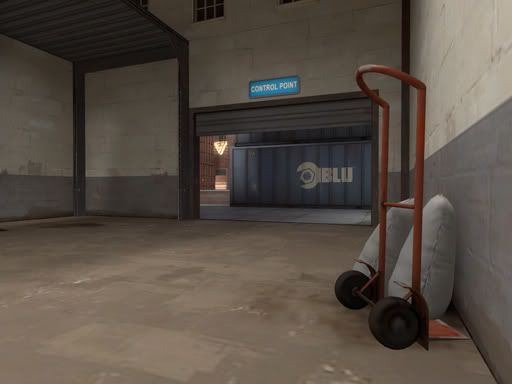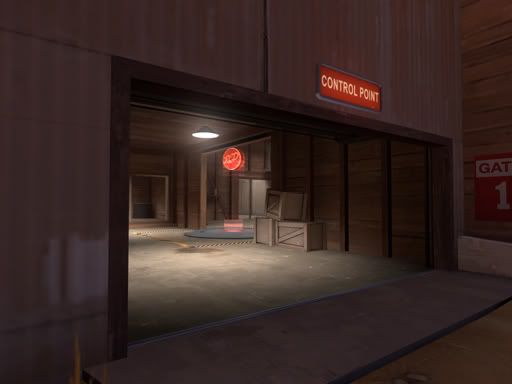 A note: Generally speaking the more signs you require to guide players the worse your map design is. Some signs are fine, signs are not necessarily indicative of bad map design, but should not be used as a means to an end.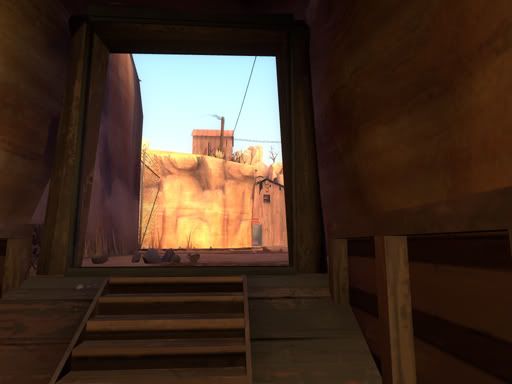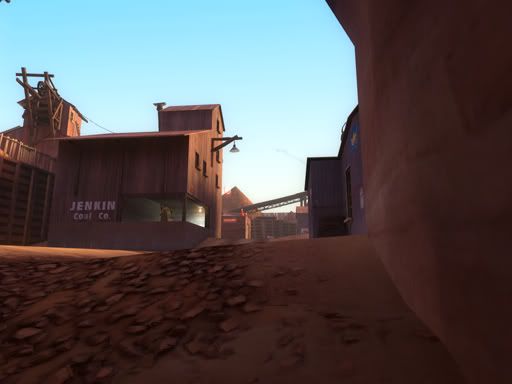 Considering Gameplay: Distance between objectives and spawn locations.
This is important for balance reasons and is perhaps less relavent to objective designs but needs to be considered on some level. It is key in understanding where our objectives go in our map.
This variable is dictated by the pace we desire for our maps gameplay, informing us where to place our objectives in relationship to the spawning locations of both teams. Dictating our grander map shape/form. Having an objective closer to one team handicaps the other and moving it between the 2 enemy spawns is like moving a slider up a scale that increases and decreases that handicap. This function acts in unison with spawn wave frequency. The smaller the spawn wave intervals, the greater the teams advantage.
In A/D maps the first CP in a stage is usually closer to the attackers whilst the second is closer to the defenders. An important thing to note is the impact of engineers and their teleporters in relation to the distances between 2 objectives like this. Enough space is allowed that walking to the objective is troublesome and consumes a moderate amount of time, but not so much that it becomes a major inconvenience. It's a way of influencing team play, the walking distance can be considered punishment for death like the spawn wait time, but redeemed by your teams ability to work together, by having an engineer. Players should be itching to get into combat but not anticipating it for so long that it causes anxiety. An average of 12 seconds of travel time for a Scout seems to be a good start when it comes to pacing between static objectives. But it largely depends on the game mode and greater intricacies of the layouts design. CTF will generally have larger distances between the spawn location and objective than other modes.
Finding the most effective variables in relation to your map design and game mode is often a trial and error process, acquired through play testing and feedback. No specific timer is correct. Once you hit the play testers sweet spot you can move onto your art pass.
Considering Narrative: Aesthetics
For the sake of immersion it is important that players understand that they are fighting for something. This is harder to implement in some game modes than others. For A/D and TC it is simply a matter of assaulting a facility that handles a resource, be it fuel, food, communications, transport etc. in order to destroy or control it. For KoTH or Arena it is area control; again, usually over a resource, but can just be area control. For CTF it is intelligence or other smaller but still significant items of interest. For 5 CP it is generally assaulting a weapons facility or base, and tend to be more ambiguous in appearance.
The choice of resource dictates your maps theme and subsequently potential objective appearances. It would not make sense to be fighting in a sawmill with active blades surrounding the point, on an oil field theme map.
Final thoughts:
Much of this article covered some aspects of previous discussions, particularly A/D layout design theory and immersion. So some of this might seem familiar. Much of the theory crosses all game modes, yet each having its own nuances.
I have noticed that many maps overlook certain basic principles such as "meaning" and the idea of a "point of interest". Maps such as Fastlane do not satisfy certain immersive qualities due to a lacking theme that further detracts importance of capturing these locations beyond the fact that they are gameplay devices; whilst more common mistakes include providing
too much
cover that obscures the point, causing attackers to bypass the intended objective and finding the proceeding locked one or enemy spawn.
Hopefully this article helps people to realise the subtleties in creating dynamic objectives that compliment their environments and TF2 gameplay.
Last edited: