[parsehtml]<link rel="stylesheet" href="/styles/font/CaviarDreams.css?t=1">[/parsehtml]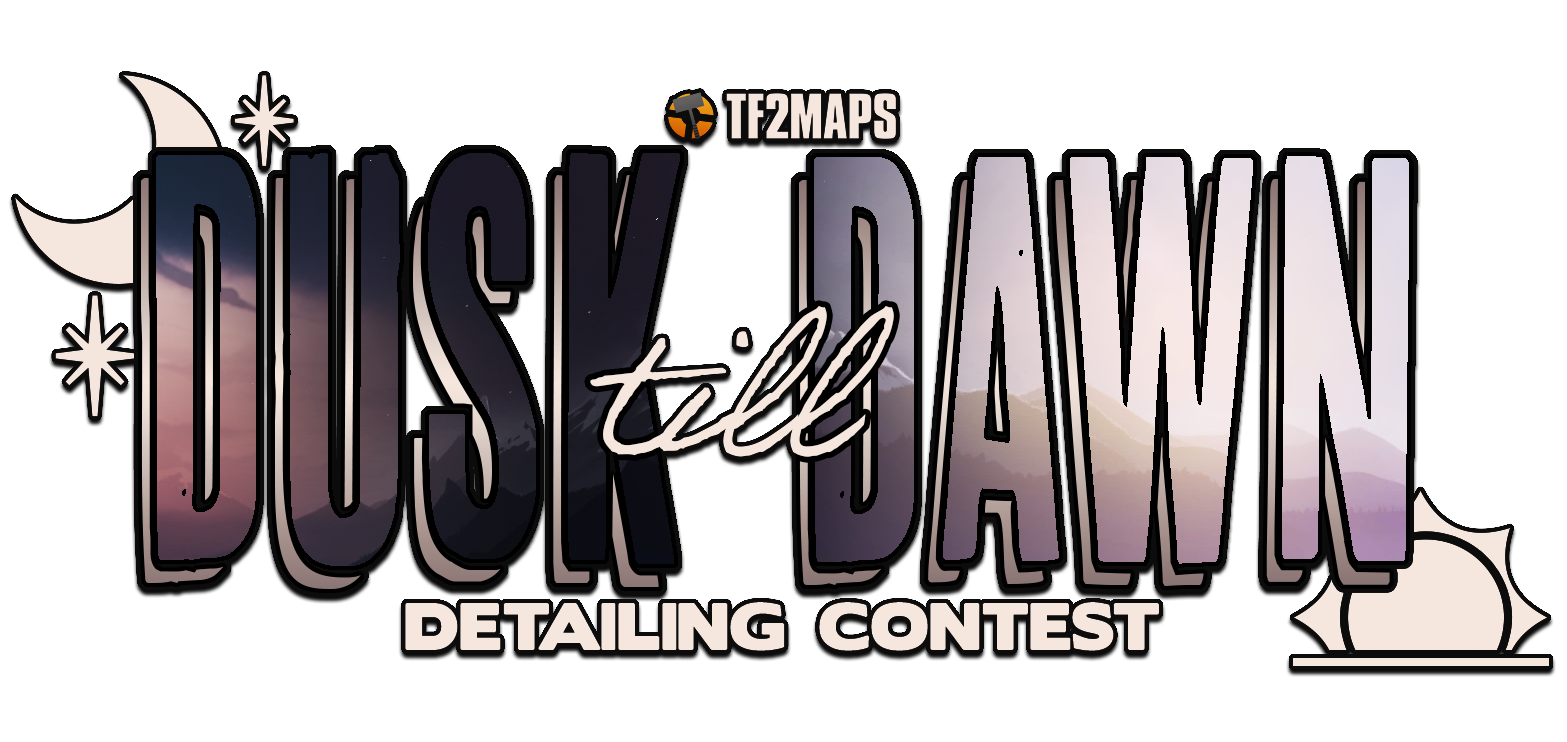 It's that time of year yet
yet yet
again, where you bust out your creativity, break free of the constraints of "layout," "sightlines," and "optimization" and create the best damn looking TF2 scene you can.
In tradition with the previous contests, this contest has a theme. A restriction, if you will. I imagine you will all take to it like too many ducks to water. We want you to create any scene you with, with the exception that it
*can not*
be daytime! An excellent opportunity to flex, or grow, those lighting skills!
To enter this contest, create the best looking TF2 scene you can in a 3072x3072 area set during the time of day that isn't, well, day!
Rules:
3072x3072 size. No height limit.
3D skybox is allowed.
Custom content is allowed as long as it fits one or both of the following criteria: It is made entirely by yourself, or available for public download prior to the start of the contest.
Collaborations are not allowed. Entries must be authored by you, with the exception of content that qualifies with above.
No game logic is required, but players should be able to walk around your map and see your work from multiple perspectives. As such, clipping and optimization is unnecessary, although clipping may help.
Maximum of two entries per person.
You must have at least one spawn point in your map, it doesn't matter where but the player needs to be able to spawn in!
Your map must be TF2 styled. (No other valve games/other games)
Your map must be playable in TF2
Your submission MUST follow this naming convention: dusktilldawn_<forum name>.bsp (If your forum name is stupidly long, compromise on your name, not the prefix. eg. dusktilldawn_vfig.bsp for Velvet Fist Iron Glove's entry)

If you submit two entries, add a _2 to your second entry.

Everything must be finished and submitted in the upload thread before the deadline! Upload thread will be up a week prior to the deadline and you are allowed to submit any time within that week, and update your entry as many times as necessary before the deadline.
Your map can be set during any time of day, except full sunlight. Night time, dusk, dawn are valid, day is not.
If you're confused about what time your map qualifies as, remember that the idea is to go with the spirit of the theme, if you have to ask, it probably doesn't qualify.
Indoor maps are fine, but again, the spirit of the theme is what we're looking for, try to use the theme in interesting ways. Something like Nucleus is day and thus does not qualify.
Deadline:
The contest
begins as of this post.
The deadline is
8:00AM 1st July 2019 GMT+0

Please see below for local time

PST -- 1:00 AM, 1st July 2019
MST -- 2:00 AM, 1st July 2019
EST -- 4:00 AM, 1st July 2019
BST -- 9:00 AM, 1st July 2019
CST/SGT/AWST -- 4:00 PM, 1st July 2019
JST/KST -- 5:00 PM, 1st July 2019
AEST -- 6:00 PM, 1st July 2019
NZST -- 6:00 PM, 1st July 2019
---
Submission Format:
In your submission (in the submission thread, Will be posted at a later date):
A link to your .bsp in the naming format above. Please compress your map also.
Please make sure ALL content is packed into your BSPs, but please make sure it follows the custom content rules above. I recommend CompilePal or VIDE.
Provide a short description of your map. Do not provide a screenshot.
Prizes:
First place:
$20 USD Steam Gift Card
Mapper's Medallion
FAQ:
What can we map? What's with the theme? Can I get clarifications?
You can map anything so as long as it abides by the rules. The theme is yours to interpret how you wish, but the primary intention is for you to have a map that doesn't rely on being day time.
As I said above, I encourage you to embrace the spirit of the theme. We want to see your interesting lighting settings, indoor maps are okay but they should use non-daytime lighting in an interesting way.
You may wish to search the skybox download area for some more matching skyboxes:
https://tf2maps.net/downloads/categories/skyboxes.27/
The previous explanation from connect-5 matches well:
Some maps are clearly in the middle of the day while others are set at night. However, times like dawn and dusk may straddle the line between day and night that isn't particularly clear where these maps may fall.

To answer this question for yourself, ask this: Is your map primarily lit by the sun, or by artificial lights? If daylight (direct or ambient) is the primary means by which your map is lit, then it's daytime. If your map is primarily lit by artificial lights, then it's night.

For example, while Granary uses lots of artificial lighting to brighten the map, this is only done in the shadows where the daylight doesn't hit. The map is bright enough where the daylight alone hits, and therefore the map would be classified as daytime. If the sun was lower in the sky and casting less light, requiring everything to be lit artificially, then it would be classified as nighttime.

If you want to build an entirely interior map with no visible sky, you do not need to fulfill the daytime/nighttime requirement, although it is not advisable to do so.
Does it have to be dusk or dawn specifically?
No, it just cannot be day time.
Can we detail an existing map (ie. dev textures)?
Yes, as long as it fits within the size constraints and was made by you, and has had no previous detail work done.
Does the 3d skybox also have to be inside the 3072x3072 space?
Yes, the skybox must fit within the limits, however remember that there is no limit to height so you can put it above or below the map safely.
Is it okay to have props slightly sticking out of the 3072 squared area?
Yes, however as the containing bounds of your map must contain exactly 3072x3072 (or less) area, any prop origins which are outside these bounds will leak! And that won't be good! So keep your origins inside this space for your sake.
Will sound in the map also be judged as detail?
The judging process at the end of the contest is essentially players wandering through maps and voting on whichever they liked best in a forum poll. So you should add anything that would help give the illusion of the scene (so yes to audio, animations, etc).
Can I donate to the prize stash?
Absolutely you can. It would be much appreciated.
Last edited: