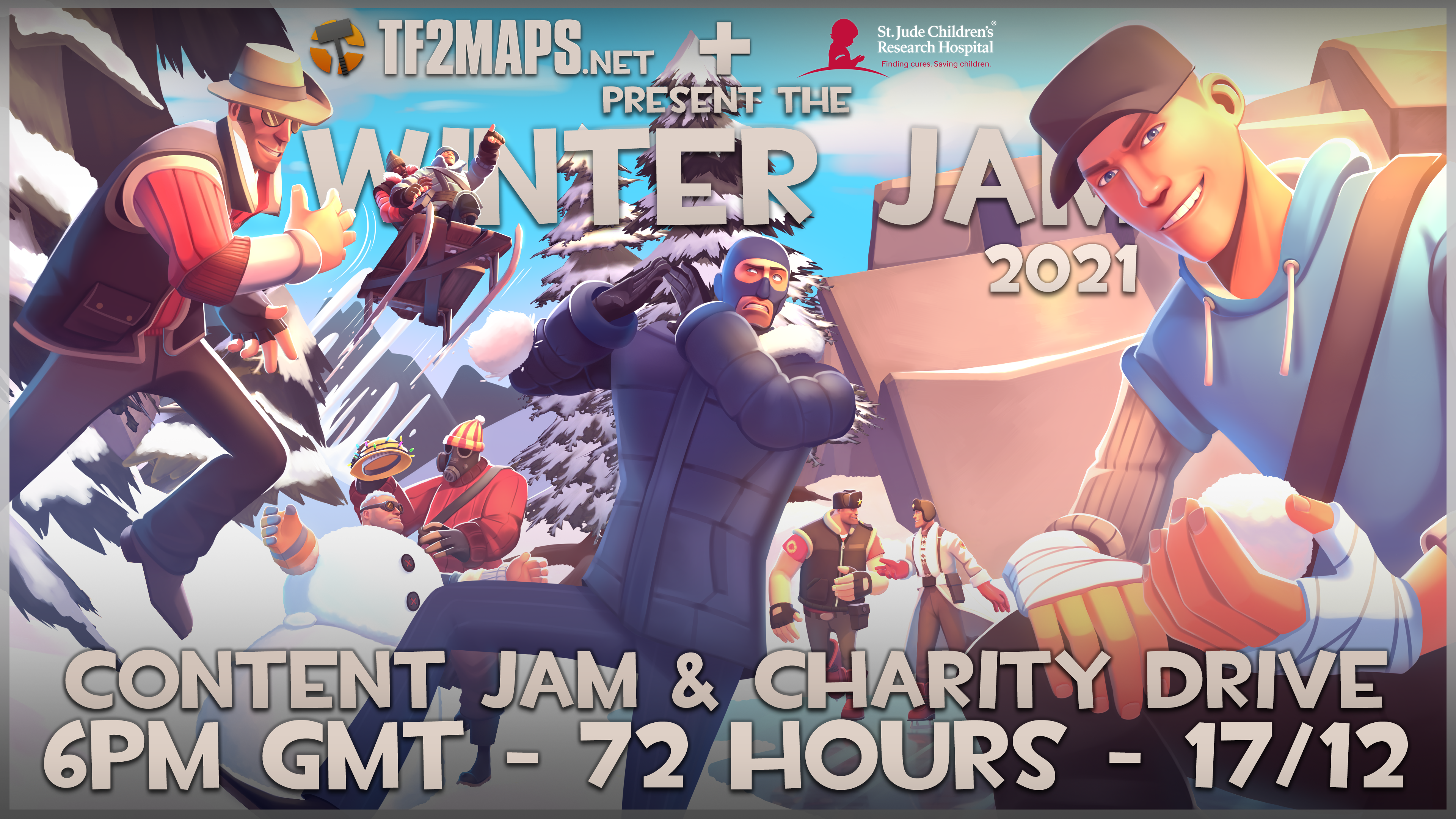 Header SFM poster by Rainnyy, Header edits by Suna.

The 72 Hour Jam 2021 begins on December 17th, 2021 at 6 PM GMT, and ends on December 20th, 2021, 6 PM GMT!

Need help with converting to your timezone? Use worldtimebuddy.com.

​
The temperature is low, but the spirits are high! The 72 Hour Jam is back once more to fill your heart with creative cheer! (Now in a special winter variant!)
This year we're collaborating with
St. Jude Children's Research Hospital
, a hospital that specialises in researching and providing treatment for pediatric catastrophic diseases in children. Like previous years, you'll receive an in-game medal if you donate $5 or more during the event!
Make something for or about Team Fortress 2. Collaborations are welcome!
You may not work outside of the prescribed hours above (Dec 17th - 20th, 2021, 6 PM GMT).

You may plan in advance, but you may not start creating in advance!

To submit your entry, create a download in the 72hr Jam Entries section before the deadline.
You may use custom content by other people. Just make sure you credit them!

If you enter the Jam, you will get an in-game medal for your participation, unless:

...we discover that you started work on your entry before the Jam started.
...we discover that you stole your entry from somewhere else.
...we decide that your entry is exceptionally low-effort.

We try to be generous with this, so as long as you put at least an hour or two into your entry, you should be fine.

...we are not able to trace down your Steam account within three days of when we initially send out the medals. You should associate your Steam account with your TF2Maps.net account in the External Accounts menu.

You may also just provide a link to your Steam account in the description of your entry. You will also want to do this for any collaborators so that they can get a medal as well!
We will send a message to everyone who we are not able to track down.

If you donate $5 to St. Jude before January 14th (using our provided links, once they are available), you will get an in-game medal for your contribution.

Make sure to include a link to your Steam profile in your donation message! This is how we trace down what Account to award with the medal.

If you forget, send me a DM on the website with a link and the name you donated under.
We will stop accepting late Steam IDs on February 10th.

You don't get multiple medals for submitting multiple times or donating multiple times.
The medals will be distributed mid-to-late January.

DISCORD
- We have a Discord! This is the main place to hang out, chat with other members, and get feedback on your works in progress. You'll also be alerted to map tests as they happen, and there's a bot you can submit your map to that puts it in a queue to be tested on our servers.
STEAM GROUP
- We have a Steam group! It is not as active as our Discord, but if you want to be alerted to map tests as they happen through Steam, you'll want to join this.

Can I make a -
Let me stop you there: yes, if it's related to Team Fortress 2. If it's lewd or NSFW, though, we would prefer you hosted it elsewhere and post a link, marked as NSFW, to it, rather than uploading it directly to here - this stops it being previewed on the front page.
Can I participate on another day?
Yes - you can participate within whatever 72hr period you wish, though we suggest you do so before the normal time for the Jam. Simply post the dates/times you wish to participate in this thread, and i'll make a list.
We can't promise to provide the same amount of support for people participating outside the normal time, but we'll do our best.
Can I collaborate with someone else?
Yes! Make sure to credit everybody involved when you make your upload though.
Do I need to be a TF2Maps member to join?
Nope! Or, well, sort of. You'll need to join the site to upload your entry, but this is open to everybody, even those who've never been here before.
What can I do before the Jam starts?
This depends on what it is you want to do with the Jam. Do you want to go from a completely blank slate to a finished project, or meticulously plan every detail before opening your chosen tool? Either is fine.
What we
don't
want people doing is continuing with half-finished or already-in-development projects. The Jam is a great time to flex your creative muscles and try something new.
What if I don't want to abide by all these cruel and restrictive rules?
That's cool. We're not fussed. We're glad you're joining us! However, please let us know if you're doing that – its not fair to other people if some get to start earlier, say. You probably won't get the medal, though.
How can I get feedback on my project?
The two best ways are to post a thread on the forums, and to join the Discord and ask people what they think - we're always happy to help. If you want your map tested, similarly join the Discord and ask - we can show you how to get it added to the list. You can also find more information for map testing
here
.
I want someone to collaborate with me!
This isn't a question. However: post in the thread you're in right now, and maybe someone will offer to join you. (It usually helps your chances to say both what you're good at and what ideas you already have.)
What does the donor medal look like this year?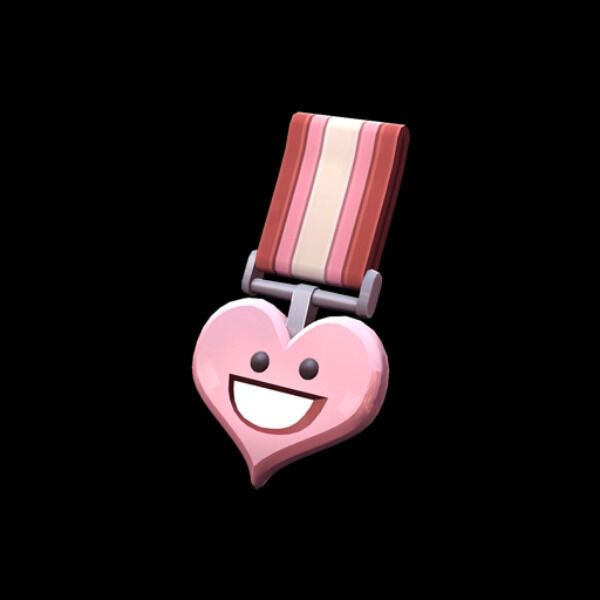 What will the participant medal look like? Like it always does.

That's all for now, have fun everyone!​
Last edited by a moderator: