KOTH_Advantage
A4.2
A small and chaotic KOTH map with a secondary objective that gives an Advantage.
The first of (hopefully) many before I figure out Attack and Defend as well as events and custom voice stuff.
KOTH_Advantage is so named because of the secondary objective located on the second floor above the point that closes half of the opposing team's access points to the main point. This can easily be subverted by grazing the secondary objective, as I could not figure out how to give it a capture time.
When these doors close, fear not! You can still crouch-walk down form above or rocket/sticky/whathaveye -jump over the doors since they're only high enough to keep non-winger-wielding Scouts out, and of course the rest of the enemy team.
Additionally, there is a sizeable underground area consisting of eye-strain-inducing orange octagonal pipes. This is connected via a complex one-way mechanism, otherwise known as a hole in the floor, to each team's spawn. They also have an elevator device that can lift flanking players up to the control point area on the other team's side for a deadly strike or a sneaky point-steal.
---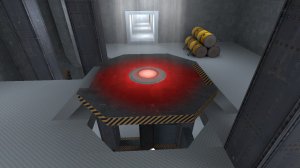 ---